Attorney: $1 Billion Lawsuit 'Not Frivolous'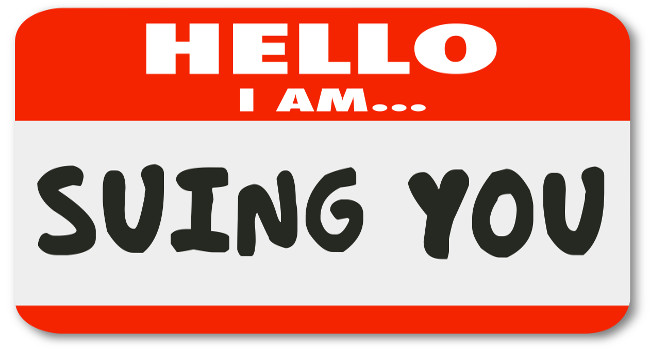 The attorney for an ex-porn star who has filed a billion-dollar defamation lawsuit against Bookface and its founder, Mark Bergenzuke, said his client's claims are "rock-solid and airtight," vehemently rejecting criticism from observers who say the lawsuit can't succeed in light of safe harbor provisions like Section 230 of the U.S. Communications Decency Act.
"Bookface and Bergenzuke are easily liable for the ongoing defamation aimed at my client on the popular social media platform, because they've taken no action to make the offending activity stop," said alleged attorney Ernest S. Hitter. "I mean, they have to be liable, somehow. How else am I going to collect over $300 million from this case?"
Hitter represents Toulouse La'Trecia, who performed in porn for several years in the 1990s under the stage name "Lady Toulouse." While there was no controversy or legal wrangling with the studios for whom she worked at the time, Toulouse strongly objected to false statements made by one particular porn company years later.
In 2008, Toulouse successfully sued Spare Time Erotica and its owner, Mark E. Marcara, for defamation of character. Her lawsuit was a response to the studio's allegedly false claim Toulouse was "born with three rows of teeth and vestigial dorsal fins" in its marketing materials for the re-release of the 1996 adult film Once Bitten, Twice Fucked.
The court eventually awarded Toulouse more than $2.5 million, including $50,000 in punitive damages for what the judge termed "outright dick moves and manifest uncool behavior" on the part of Spare Time and Marcara. The award of damages appeared to be a major victory for Toulouse at the time, but the harassment and defamation didn't end there, according to the performer's complaint against Bookface and Bergenzuke.
According to the suit, Spare Time and Marcara continued to make false and disparaging remarks about her and her teeth on Bookface. According to Hitter, that makes the website and its owner "just as liable as the direct author" of the false statements.
"Section 230 does not give Mark Bergenzuke the right to be an asshole or to ignore other people using his website to be assholes," Hitter said. "Or, shit, maybe it does. I don't know. It's not like I've actually read the whole fucking thing."
Even if the case lacks merit, Hitter added, several compelling reasons remain for Bergenzuke to cave in to his client's demands.
"Either way, the important thing is Bergenzuke should settle this case, because it's going to cost him more to fight us than to settle," Hitter said. "I mean, don't tell anybody I told you so, but we'd probably even be happy to get as little as $250,000. It's not like I have hundreds of wealthy clients beating down my door, so I need this thing to settle pretty quickly in order to stay current on my lease. By the way, we're off the record here, right?"
In subsequent off-the-record comments, Hitter added he was "hopeful" the case would survive an initial motion to dismiss because "a lot of judges are a few rounds short of a full clip, if you catch my drift."
Attorney Tito Mendacio, who isn't involved in the case but likes to comment negatively on everything Hitter does just to be a prick, said the lawsuit was "more doomed than the Hindenburg trying to land on the deck of the Titanic."
"On a scale of 1 to 10, with 1 being the least merit possible and 10 the most, this case ranks a negative 581," Mendacio said. "Seriously: As much sympathy as I might have for his allegedly overly toothy client, somebody should just shoot this deranged little turd [Hitter] right in the face with a nail gun until he looks like the guy from Hellraiser."
Comments are closed.