Be A Bimbo Unleashes 3rd Line of 'Stop Censoring Sluts' Merch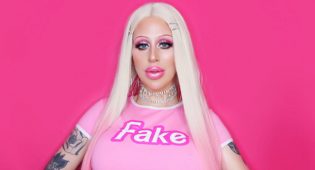 Be A Bimbo has expanded their line of the best-selling #StopCensoringSluts campaign with new merchandise, adding white crop-tops with pink and black lettering.
Founder Alicia Amira has teamed up with Exotic Cancer to show support for the sex worker community, and that community has returned love. 
"It's been so empowering to see women rally to this movement," Alicia said. "Censorship is ugly, and your body is beautiful! Don't let anyone tell you what you can wear or how you can look. Since we launched the business our sales have been tripling every sixty days – women are ready for this movement."
This new merchandise will be the final offerings of the Stop Censoring Sluts line and is available now for pre-order on the Be A Bimbo website.
For the month of June, Be A Bimbo is offering free worldwide shipping on all orders of $35 or more. The offer applies to all Be A Bimbo products
Check out the Be A Bimbo website at www.BeABimbo.com.
Companies, brands and talent interested in business collaborations with Alicia Amira and Be A Bimbo should email corporate@beabimbo.com.
Comments are closed.