Boob Aid Marries Fundraising and 'Tit'illation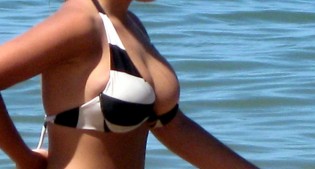 TOKYO – Forget buckets of ice water. On Aug. 30 and 31, the Japanese will ramp up the fundraising stunts with Boob Aid, or groping for a cause.
The 2014 Boob Aid is the 12th annual fundraiser to benefit the Japan Foundation for AIDS Prevention. Every year, men line up to squeeze Japanese adult performers' breasts in exchange for a donation. At least 10 Japanese starlets are expected to participate this year.
The event is broadcast on adult TV.
"It's for charity," 21-year-old performer Iku Sakuragi told Tokyo Sports Daily. "Squeeze them, donate money, let's be happy."
Rina Serina added, "I'm really looking forward to lots of people fondling my boobs, but I would be very happy if you would please be delicate."
If past Boob Aids are anything to go by, squeezers will be required to sterilize their hands first and be limited to two squeezes apiece. Of course, they can always pay to go again and again and again. After all, the gropes go to a good cause.
"I never thought my boobs could contribute to society," Serina said.
Comments are closed.