Brit Samantha Bentley Shines in Explicit Vampire Saga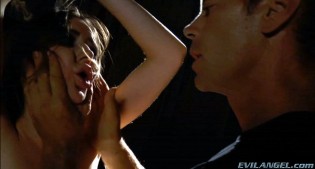 LAS VEGAS – The newest chapter of Voracious Season Two went live online as the porn industry's biggest annual event, the Adult Entertainment Expo, opened. The sixth episode, entitled "You Will Cry Very Much," stars curvy British sensation Samantha Bentley.
The webisode debuted Jan. 15, exclusively on EvilAngel.com. Ever since, Bentley has spent a copious amount of time in the studio's convention booth, chatting up fans and promoting the arty, edgy, X-rated serial.
"Samantha Bentley was picked by Rocco [Siffredi, who portrays recurring character Vlad]," director John Stagliano revealed. "I asked him who excited him the most for this scene, and he suggested her.
"There is something about the demented sexual depravity of the British that inspires Rocco," Stagliano continued. "Samantha says this is her best scene ever. Rocco says maybe so for him, too. Me? I am still trying to process the debauchery. The connection between Rocco and Samantha was as powerful as anything I have ever shot."
In the new episode, as in all others in Voracious Season Two, the performers' seemingly superhuman sex is driven by motivated characters. Imagine the trouble for Bentley when she's captured and delivered by ethereally pretty Mira Sunset to Siffredi's Vlad, the vampire clan's enforcer. Not only has Bentley's character undermined the security of the clan, but she also tried to have Vlad burned in order to destroy him once and for all. He takes out his anger on her voluptuous body.
"Mira provides an exquisitely beautiful background to Rocco's debauched imagination as he powerfully abuses Samantha," Stagliano said.
Sunset also ultimately succumbs to Vlad, whose maniacally evil imagination is surpassed only by his carnal charisma.
Shot in California and Eastern Europe, Voracious Season Two continues the traditions of carnal sex, clever vampire lore and ambitious filmmaking established in the award-winning first season. "You Will Cry Very Much" delivers Gothic thrills for devotees of Stagliano's fetish-laden, sexually intense cinema.
Subscribers to EvilAngel.com get to enjoy Sunset, Siffredi and Bentley's onscreen passion exclusively as the AEE convention continues through Jan.18. Convention attendees visiting the Evil Angel booth may experience Bentley's heated charm in person.
Webmasters may promote EvilAngel.com through FameDollars, the award-winning affiliate division of Gamma Entertainment. For marketing material or answers to questions about Evil Angel and FameDollars sites, email Derrick.
Image: Samantha Bentley endures Vlad's (Rocco Siffredi) attention in a scene from Voracious Season Two, Episode 6: "You Will Cry Very Much."
Comments are closed.