British Scorn Aroused by Porn Shot in Historic Theatre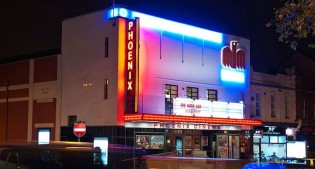 LONDON – A right royal rumpus has broken out at the 102-year-old Phoenix Cinema in the London borough of East Finchley, after a local newspaper revealed a porn film had been shot on the premises.
The video, posted to an adult tube site, shows six women sitting on "the Phoenix's distinctive red seats," sniffed a Ham & High reporter. Apparently the women are cheering a seventh woman who is determined to perform "an explicit sex act on a naked man."
Given the Phoenix Cinema is London's oldest continuously operating theatre and a historic site to boot, the idea that someone apparently rented the facility as a porn set caused many a stiff upper lip to quiver. After all, the Phoenix is run as a charitable trust whose patrons include bigwigs like Monty Python's Michael Palin and British actress Maureen Lipman.
In an attempt to defuse the brouhaha, Phoenix Cinema Trust Deputy Chair James Kessler said the film wasn't a professional shoot, but rather a spontaneous amateur orgy someone managed to record.
"I was sorry to discover that a hen-night party which took place at the Phoenix some years ago was not conducted with decorum and am embarrassed that a video of the occasion was put online," Kessler told Ham & High. "I expect those involved may feel embarrassed, too. The trustees will be considering what can be done to avoid such events occurring in the future."
Given that all seven women in the video look like gorgeous young porn stars, Kessler is either misinformed or East Finchley has hen-night parties worth attending. Also noteworthy is the use of multiple camera angles, with close-ups of the man's penis and enjoyably shocked female watchers. Apparently, East Finchley hen-night parties are not to be missed.
By way of rebuttal, freelance cameraman Charlie Johnson said he lensed the video inside the Phoenix seven years ago for PureCFNM.com. (CFNM is an acronym for "clothed female, naked male.") Johnson indicated the Phoenix's manager was informed about the purpose of the shoot.
"I'm sure they would have been made aware [of the nature of the shoot]," Johnson said. "We are normally very careful not to film anything which identifies the set. It's not unusual for a film to be shot in a cinema."
For her part, Maureen Lipman was unfazed by the Phoenix's porn debut.
"You rent out your premises to a film company and take it on trust that the company is not going to shoot a pornographic film in East Finchley," she told Ham & High. "It's not going to be the porn centre of Europe, is it? So I'm not getting my knickers in a twist — that's for them [porn producers] to do. I'm going to try to get the film, actually."
Nevertheless, Lipman expressed one reservation about the shoot: "I'd like to know which seat this went on in, because I don't want to sit there."
Photo by Basil Jradeh.
Comments are closed.