Broad City Official Pleasure Collection Debuts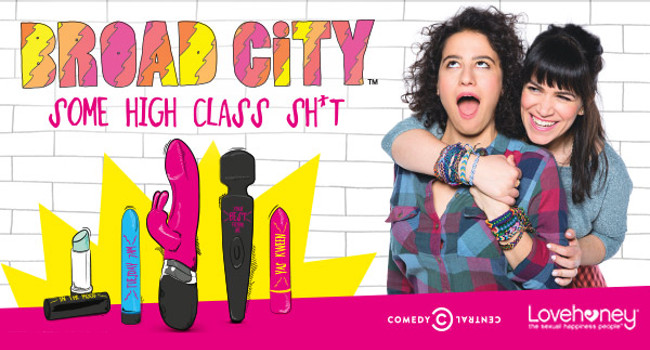 British pleasure products manufacturer Lovehoney has begun shipping the result of its latest brand partnership, this one with the producers of the U.S. hit comedy series Broad City.
The Broad City Official Pleasure Collection echoes the spirit of the outlandish odd-couple comedy created by and starring Abbi Jacobson and Ilana Glazer, who portray two best friends navigating their 20s in New York City. The show is notable — and both praised and criticized — for its frank and funny portrayal of sex. Episodes have featured many sex toys, including a memorable scene that introduced pegging to a mainstream TV audience for the first time. Lovehoney believes the range of irreverent, colorful items will appeal to Broad City's extensive fan base as well as first-time sex toy users.
The collection, which officially launched to the trade at the ANME Founders show in Burbank, California, in July, represents the first time Lovehoney has partnered with a TV show. The company's other partnerships include rock bands (Motörhead, Mötley Crüe), fashion brands (tokidoki), sex experts (Tracey Cox) and, of course, the Fifty Shades of Grey franchise.
"For us, working with a show of Broad City's caliber was a no-brainer, and we're delighted to be working with [broadcast network] Comedy Central," said Lovehoney co-founder Neal Slateford. "The range perfectly encapsulates what the show is all about: fun and energy. We're delighted with how the products represent Abbi and Ilana's humor, with each item harking back to hilarious episodes in the girls' lives.
"The hero products for us are the kegel balls, Nature's Natural Pocket," he continued. "Fans will know the exact moment in the show that these pleasure balls, with their secret 'stash' pocket, is all about."
Steve Raizes, senior vice president for consumer products at Viacom's Global Entertainment Group, said, "Comedy Central is thrilled to team up with Lovehoney on this collection that expresses the bold, unique and sex-positive voice of Broad City. We are excited to bring these innovative and high-quality products to fans of the show."
The full range includes:
Yas Kween Bullet Vibrator.
Pegasus Strap-On Kit.
In the Mood Lipstick Vibrator.
Man on a Mission Stimulation Stroker masturbation sleeve for men.
Tuesday 7am Classic Vibrator.
Respect Your Dick Vibrating Cock Ring.
Ass of an Angel Silicone Butt Plug.
Hot Dream Rocket Vibrator.
Precious Package Love Egg Vibrator.
Nature's Pocket Kegel Balls.
Dr Wiz Mini Wand Vibrator.
Dream Come True G-Spot Vibrator.
The Vulvarine Rabbit Vibrator.
Mind My Vagina Lubricant.
"The range was very popular when it launched at the ANME Founders show," said Kate Hodgson-Egan, Lovehoney's international sales manager. "Visitors to our stand loved the bright and fun packaging of the products and eye-catching [point-of-sale collateral], perfect for in-store displays or windows. The new season of Broad City premieres in the U.S. on 13 September, so get your orders in as soon as possible."
For more information, visit Lovehoneytrade.com or email enquiries@lovehoneytrade.com.
Comments are closed.