'Fifty Shades Darker' Inspires Events in Norway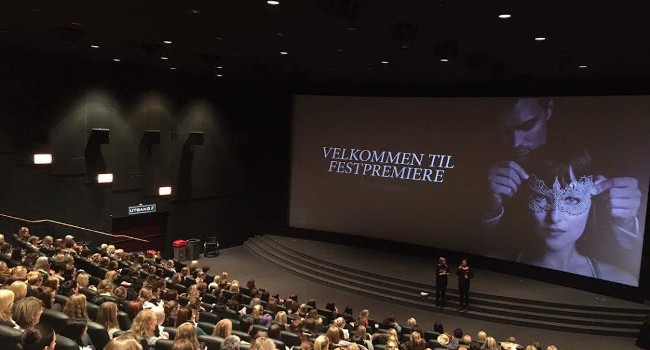 SKI, Norway – The phrase "go big or go home" was put into action in a very big way recently during a cooperative promotional venture between Norwegian sex-toy retailer Kondomeriet and manufacturer-distributor Lovehoney. The series of events promoted Lovehoney's Fifty Shades of Grey – the Official Pleasure Products collection.
Kondomeriet stores are located in high-footfall areas such as shopping malls and the main High Street in Oslo. Taking advantage of the stores' high profiles, Kondomeriet distributed 17,000 Fifty Shades blindfolds to 50 Norwegian cinemas showing the new movie Fifty Shades Darker. The giveaway was accompanied by a dark and atmospheric cinematic trailer featuring products from the Fifty Shades Darker line. In addition to creating the trailer in-house, Lovehoney's designers also designed a range of thematic point-of-sale materials, bespokely designed for Kondomeriet's stores.
Then the real party began. The companies hired an entire cinema for an exclusive screening of Fifty Shades Darker. More than 1,500 invited customers attended the gala event, adjourning post-movie to a nearby Kondomeriet to shop while entertained by a private DJ. The staff wore Fifty Shades Darker Masquerade masks.
The following night, another party took place at Kondomeriet's Oslo store.
"The cinemas of Norway were jam-packed with people on the premiere weekend of Fifty Shades Darker," said Maria K.Ebbestad, Kondomeriet's online editor and press spokesperson. "There were high expectations, an amazing atmosphere and the movie did not disappoint.
"We had so many people come to our event that had not shopped with us before," she continued. "By working on these kinds of events, we are reaching out to many new customers, as well. The atmosphere at the events was great, and we were happy that Ilona and Neal from Lovehoney came all the way out to party with us."
"It's inspiring to hear that Kondomeriet's exciting events recruited a large number of new customers to experience the new Fifty Shades Darker range," said Lovehoney Trade Sales Executive Ilona Laboviciute. "Norway is an exciting market to work with, and Norwegians are a massive fan of the Fifty Shades franchise.
"This is testament to the fact that this range has opened up pleasure products to a whole new market," she said.
Comments are closed.