Coming to Oculus Rift: Real-Time Adult 3D Chat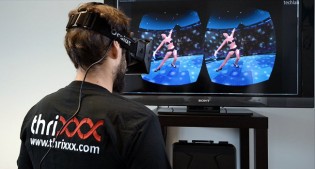 INNSBRUCK, Austria —Sex-simulation technology provider Thrixxx Software GmbH has integrated the Oculus Rift into its soon-to-be-released Chathouse3D real-time chat client software. The virtual-reality headset, designed for use by 3D gamers, will provide an extra boost to Chathouse3D's voyeur mode, expected to be one of the most attractive features of Thrixxx's new chat system.
"The Oculus is fantastic new technology that lets users experience cybersex in entirely new ways," said Thrixxx Vice President for Business Development Brad Abram. "Decent virtual reality sex experiences have been expensive and hard to create, but with Oculus, augmented 'hardcore gaming' takes on a whole new meaning and can be experienced by everyone."
Chathouse3D is the first 3D chat client to utilize Oculus, Abram said. The system constitutes a peer-to-peer chat client that allows adult users to socialize in private virtual spaces, virtually date and engage in multiplayer sexual role-play fantasies while plugged into a Matrix– or Avatar-like VR world. In voyeur mode, participants chat participants may spy, snoop and peep into others' fantasies, record action in first- and third-person modes, and create their very own voyeuristic realty-TV-style POV porn from other people's fantasies. The exhibitionistic strangers must consent to being watched, but they are unaware of the voyeur's presence.
According to Abram, each fantasy is rendered in highly realistic detail. Chathouse3D users can hide or unhide their presence in a room and feel firsthand the thrill of public sex either openly or secretly.
"With the Oculus, it's just like being there, observing from a distance or getting up close and personal," he said.
The software is entering beta stage, and Thrixxx expects to begin beta-testing later this year. Beta testers do not require Oculus headsets to participate, "but they'll be treated to mind blowing experiences if they own one," Abram said.
Visit Chathouse3D.com to sign up as a beta-tester.
For more information about Thrixxx and its other virtual reality products for adults, visit Thrixxx.com.
Comments are closed.