Cosplay Competition to Become a Regular at Sexpo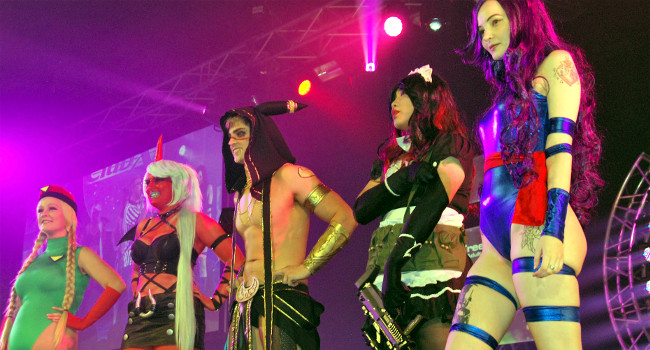 SYDNEY – After the "overwhelming success" of Sexpo Australia's first cosplay competition during the May 12-15 show, organizers plan to add the event to the winter show's schedule, as well. Sexpo South Africa also will incorporate a cosplay competition into its fall show.
In general, cosplay is the practice of dressing up as a character from a movie, book, video game, or graphic novel. The practice is especially popular at fan conventions celebrating mainstream cultural phenomena such as Star Trek, Star Wars, and the Marvel Comics and DC Comics universes. The rise of XXX parodies of pop-culture movie hits has sparked increasing interest in cosplay among adult entertainers and their fans.
Sexpo Health and Sexuality Lifestyle Expo is a leading consumer exhibition for the adult industry. Bentleigh Gibson, event manager for Sexpo Australia, said cosplay fits perfectly with the organization's mission to "provide a fun and vibrant atmosphere for all adults."
"Enthusiasts of all types of cosplay should have a safe and comfortable avenue through which they can explore and promote their passion," Gibson said. "Sexpo is simply providing this channel and, at the same time, rewarding those who go that extra mile with their choice of outfit."
Sexpo Australia's next show will take place Nov. 24-27 in Melbourne.
Based on Sexpo Australia's success, Sexpo South Africa will host its first cosplay competition during the show's run Oct. 27-30 in Johannesburg.
"After the hype created around the Australian show, we have been inundated with requests for the same to be held out here in South Africa," said spokesperson Sean Newman. "As proud members of the Sexpo group, we are ecstatic to announce that we will be holding a competition based on the one held in Australia at our show in October. We feel it is a great new element to an already fabulous concept and brand and couldn't be happier to carry the flag on this side of the world."
Sexpo UK, the third event in the group, is on indefinite hiatus.
Comments are closed.