Distributor Brings Medically Patented Novelties to Europe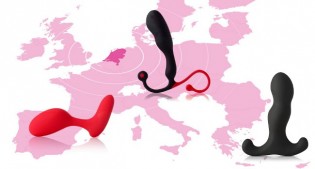 ROTTERDAM, Netherlands – Eropartner Distribution, a wholesaler of adult products throughout Europe, now stocks 19 of the sexual health and wellness products developed by Houston-based Aneros. Through Eropartner, the line's prostate massagers, lube, vibrators and hands-free kegel exercisers are available to retailers in the UK, France, Netherlands, Germany, Poland and Spain.
"We want a strong and immediate presence in the European market, and Eropartner has all the relationships in place to help us achieve this," said Aneros Chief Executive Officer CT Schenk. "Eropartner is very discriminate about the brands it represents, and education and wellness are pivotal to its philosophy. We are very pleased they are representing our brand and are committed to educating Europe about Aneros. I am confident we will enjoy a long, successful relationship."
Aneros creates award-winning products for men and women, including the brand-new Eupho Syn and deVice, as well Helix Syn, EVI and Vice.
"Aneros is a great brand with a strong following in the United States," Eropartner Purchaser Elcke Wieffering said. "We are proud to be able to support Aneros, so [the company's products] may incur equal success here in Europe."
Aneros representatives decline the word "sex toy" for the company's products. According to company literature, the health benefits of Aneros' prostate massagers include helping to prevent enlarged prostates, prostate cancer, prostatitis, genital pain and incontinence. The massagers also offer a natural treatment for symptoms related to erectile dysfunction while prolonging erections, increasing sexual performance and intensifying orgasms, the literature notes. The company claims the only medically patented prostate massager on the market.
Founded in 1996, Aneros sold its one-millionth product in January 2013.
"Our deal with Eropartner is going to help us reach the two million mark much quicker — a milestone we are all looking forward to," Schenk said.
Comments are closed.