The Gift that Keeps on Cumming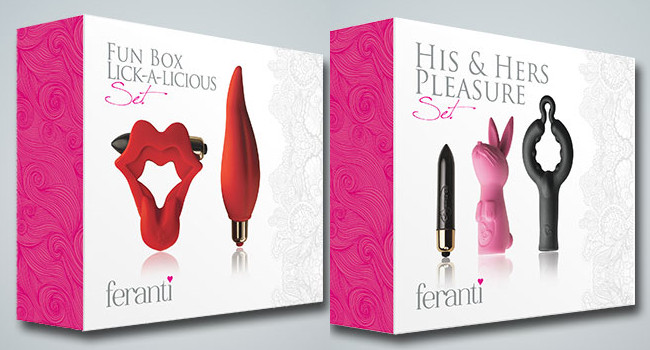 LONDON – What better way to show a special person you care than by presenting him or her a gift-boxed set of adult toys?
Pleasure products manufacturer Rocks-Off has established a new line the company calls Feranti. Consisting of gift-able boxed sets of Rocks-Off classic products and best-sellers, Feranti was designed to appeal to a new demographic the company: consumers who don't feel comfortable purchasing adult products that are packaged like adult products.
"In some cases we realize that people feel more at ease in buying product from mainstream outlets, pharmacies or large website portals like Amazon," Managing Director Sue Walsh said. "Feranti has an entirely different presentation. We normally produce and style specifically for the adult market; however, the Feranti range is a much softer approach. For someone who may have never bought a pleasure product before, it is very easy to look at it, choose which one is for you or your partner and then buy it."
The line contains a total of 14 sets designed for different genders, personalities, lifestyles and sexual preferences.
"As a manufacturer we felt there was a gap in the market for gift-able box sets such as this, and we were absolutely correct," said Sales Director Andrea Duffy. "The style and presentation was achieved by looking to the luxury and lifestyle brands and then using this as a footprint to present a mid-range of products presented and pitched to allow people to be comfortable with buying them."
For more information, visit Rocks-Off.com
Comments are closed.