'I'm Ruby Goodnight, and I Write Smut'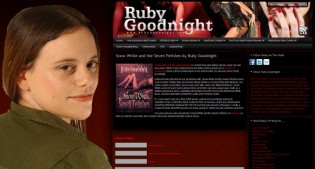 ENGLAND – Her written gallery descriptions, escort ads and erotica have pumped up many an adult website, and her customized adult content has helped many a porn fan see their dearest fantasies in print. But despite her career success and wide-reaching adult literary achievements, freelance writer and erotic novelist Ruby Goodnight is one of the few beings on Earth — along with two cats and a bowl of goldfish in San Diego — not nominated for an adult industry award during the January 2014 cycle. (The silver-and-black fantail goldfish in the bowl was nominated for Best Underwater Gonzo Performance by a Non-Human. But the rest weren't.)
YNOTeurope.com was curious how Goodnight is coping with her unique status.
YNOT Europe: How do you describe yourself, professionally?
Ruby Goodnight: How I tend to introduce myself these days — at least in professional circles — is, "Hi. I'm Ruby Goodnight, and I write smut." Of course, my parents weren't so forward-thinking as to give me a porn-tastic name. I must admit Ruby Goodnight is very much a pen name.
I'm a thirty-something American woman living in the English countryside with my wife and son. I make my living by writing for adult enterprises — in other words, pay sites, affiliates, retailers and the like. I also ghostwrite, so someone who has an idea for a kinky story comes to me to write it for them.
How do you feel about being a member of the exclusive club of adult industry non-nominees?
This club is exclusive? Oooh … I feel much more special now! [She laughs.]
Really, I think a large part of the adult industry doesn't get recognized for their work, especially behind-the-scenes or behind-the-webpage folks like me. I'm one of those "get your head down and work" kind of gals, but I wouldn't mind having some sort of atta-girl from my adult industry peers.
How did you get into erotic writing?
About six months after I had my son, it was my time to return to the 50-hours-per-week job I had in a debt-management company.
Yeah — I know. That's pretty much what I thought, too. So I decided to take the jump and become self-employed.
Back when I was living in the U.S., I worked as a performer — called a "professional submissive" at the time — in BDSM clubs, so I decided to combine that with my love of writing and bust out on my own. I met a well-known webmaster who showed me the ropes, and it went from there.
About what do you write?
I tend to focus in two areas: sex toys and BDSM. They do tend to overlap quite a bit. I get a lot of "general" porn sites looking for written content as well, and that's a nice change every so often — even the vanilla kind [of erotica].
When folks ask what I write for porn sites, I tell them it's the text that goes along with the images and videos — the stuff no one ever reads. There's also the run-of-the-mill SEO blog posts in the mix, as well.
Where do you get your story ideas and inspirations?
Part of it I take from my own life and experiences. Sometimes it's based on sessions that I've watched either in my porn-writing work or for my own pleasure.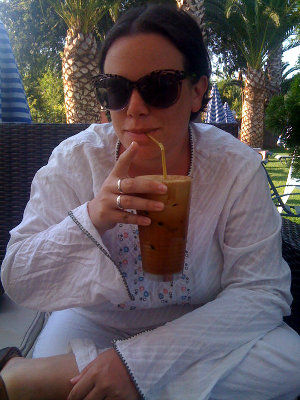 So, your stories represent your sex life and tastes in real life?
In some ways, yes. I do tend to write a lot of female-domination material, and this mirrors parts of my personal life. I write a lot of scenes that I'd love to try out in real life, but I don't have the ability to try them at this moment in time. I suppose my writing is a way to live my kinky fantasies vicariously.
Which of the stories you've written is your favorite?
The one I'm currently working on is probably one of my favorites. It's sort of a shifter/end-of-the-world erotica with a good helping of bondage and dominance. Very yummy characters, but who knows if the major book retailing sites will accept it, given their love of censorship recently.
How do you sell your stories?
At this point in my career, I perform a lot of word-of-mouth work for all the various styles of writing I do.
There was a huge push earlier last year with entrepreneurs trying to jump on the Fifty Shade of Grey bandwagon and get their piece of the pie, so I had lots of guys asking me to create short stories with those themes. They planned to sell them, in turn, on the book websites. BDSM websites wanted material that mirrored what was going on in [the Fifty Shades] books. Then the sex toys came out, and that was another layer. The whole "mommy porn" wave is still going strong, thankfully.
As far as the sex toy retailers and porn companies I work with: again, it's mostly word of mouth. I do have a portfolio website where I send people who want to view my work, but I don't use it as a marketing tool, per se.
Going to the adult shows also helps. Face time is always a good thing. After I spoke on a panel earlier this year, I got hammered with work a few weeks later. I just try to be approachable and fit the role of an adult writer.
How well is your business model working for you?
Not too shabby. Thankfully, I haven't needed to seek work in more than a year. I keep hearing "porn is dead," but not in my neck of the woods! Between continual contracts and one-offs here and there, I keep the bills paid by happily writing kink.
It's also helped me learn a great deal. The webmasters I work with have always been great about teaching me how things work. So, in the past year, I've started building my own collection of affiliate websites — something I never intended when I started writing adult. Now it's just another layer for me to explore, both financially and with my writing.
Is there a way to leverage your uncommon status once the slew of January awards shows has passed? After all, having not been nominated, you won't be among the losers.
Wow. I really never thought of it that way. Maybe it'll be an excuse for me to dress up and post a few new banners on my portfolio website. I'll hold a sign saying something like "I've not been turned down for a porn writing award yet!" [She laughs.]
Really, though, I'll just smile and be thankful that even though adult content writers like me are passed up for these awards, we're still in pretty high demand.
Comments are closed.