iStripper Talent of the Month June 2018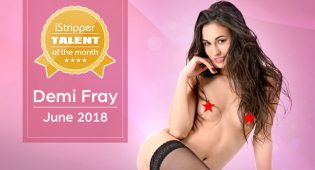 Paris, France — June 4th, 2018 – iStripper has named the ukrainian star Demi Fray, their Talent of the Month for June 2018
Demi Fray presents herself as a fashion & artistic nude model motivated by beauty and challenges to create new, original and beautiful content. She's 26 and comes from Ukraine. She has been elected 'Cyber girl of the month' by Playboy in April 2017. Demi is very busy, traveling the whole world shooting after shooting for the biggests!
« Demi is a fantastic actress and role player, she knows exactly how to stir up her audience's desire » -said iStripper Video Director. «Despite two days of tiring shooting, Demi has never lost her lovely smile, she has been very patient & sweet and accepted with pleasure our technical constraints and requests, to do screen wash & a swing scenes for instance. She is a fantastic performer and we are very proud to count her in our iStripper club !"
And members' comments on the iStripper forum confirm the above words :
★★★★★ 5/5
« A seducing beauty sexy playing in sensual poses. »
M***
★★★★★ 5/5
« God be Praised!.»
r*********
★★★★★ 5/5
«Demi Fray with white outfit is simply the paradise in my life »
s*************
Each month, iStripper selects their Talent of the Month based on her beauty of course, the quality of her performance as a stripper, the rate she got from our members, the number of times she's been purchased, how long she stays in our top 20, etc.
And in case of a tie, we ask the shooting crew to choose the girl who has left them with the most unforgettable memories!
iStripper is the only desktop application able to display real stripteases directly onto the computer taskbar, without background. The concept exists for 16 years and is supported by thousands affiliates who monetize their desktop trafic with innovative tools such as the popping models.
For more info visit affiliates.istripper.com
Comments are closed.