Mobile Class is in Session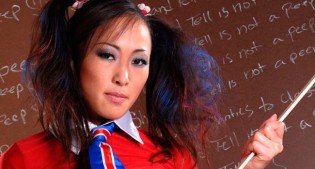 BARCELONA – One of the oldest names in mobile adult content distribution, Cherry Media, believes knowledge is power. That's one of the reasons the company launched CherrySource.net, a veritable university for monetizing mobile content.
Every educational institution administers tests, and Cherry is no different. As part of its Back to School promotional campaign, the company is offering a 50-percent discount for three months on exclusive mobile video feed collections. To qualify for the discount, customers must pass a "test" about mobile history.
"To obtain this amazing discount, simply test your mobile industry knowledge by answering three simple questions," said Giles Hirst, Cherry Media's business development director. "If you answer correctly, you'll automatically qualify for the 50-percent discount. Easy!"
The questions were taken from Cherry Media's 10-year anniversary infographic.
The collections that are part of the offer include Silicone Stunners, Nude Fight Club, Beach Bitches, Luxury Teens, Stolen Showers, Aletta Ocean Superstar and Back to School. Each is delivered to end-users via state-of-the art, dynamic streaming technology that automatically identifies the user's handset, location and network. Because the content is streamed directly from Cherry's servers to customers, implementation requires only copying and pasting a unique link to get started.
"We are discounting both the cost of our award-winning content and the cost of the streaming," Cherry Media founder and mobile academy headmistress Julia Dimambro said. "Our glamour and topless content collections are quite rare, but perfectly targeted to a global mobile audience in high-earning emerging territories such as India, [Latin America] and Australasia. So, if you have mobile traffic for these areas and don't want to hand your valuable customers over to others via affiliate programs, this is an ideal way to retain much larger profit margins from your mobile customers.
"You can't go wrong," she continued. "For example, our Back to School collection, complete with the video feeds, can save you more than 1,000 euros off the full pack price."
To take advantage of the offer, take the test here. The promotion ends Oct. 15.
Comments are closed.