Payment App Helps German Company Limit High Mobile Carrier Fees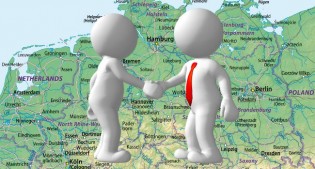 FRANKFURT, Germany – Mobile payment app iCushy is proving beneficial to early adopters' bottom lines. One German company has found the product to be not only an easy-to-deploy and -use payment solution but also an effective means to achieving lower transaction fees.
"I'm very pleased to work with iCushy, as iCushy can help our industry to get away from the high fees [charged by] the mobile carriers," said Dino Baumberger, executive officer for Wesel, Germany-based DBM Videovertrieb GmbH. "It's easy to integrate and to use, and the checkout process for a registered user is very quick.
"For our online and mobile content including our erotic shops selling tangible goods, it gives us many new possibilities to do promotion and get better conversion rates," he added. "iCushy gives us many different options, including checkout buttons and QR codes to sell our goods."
Launched earlier this year, iCushy enables mobile users to register their credit card, Astropay card or personal bank account once, and then pay securely and anonymously at any participating website simply by entering a four-digit PIN code. All transactions are accomplished via a processing gateway certified as PCI Level 1-compliant by VISA and MasterCard.
The service, developed and backed by Euro Payment Group GmbH, is available for worldwide use on iOS, Android, BlackBerry and Windows Mobile devices.
"We are extremely happy to have DBM on board, as Dino Baumberger is one of the veterans in the European adult biz with many years of experience in the market," said iCushy Chief Executive Officer Christian Diegelmann. "At iCushy, we do not simply offer a 'flat' product to our clients and then lie back. With our proprietary technical infrastructure and banking network, we have the best preconditions to develop iCushy to suit each merchant's individual requirements. If a merchant needs a dedicated payment solution in a special region integrated in iCushy as alternative option to mobile carrier billing, then we just do it."
According to the latest eMarketer research, this year 1.3 billion active mobile app users worldwide will spend 101 billion minutes a month using Android or iOS apps. In the U.S. alone, users will spend another 23 billion minutes a month on the mobile web.
"We at iCushy believe smart companies aren't looking at any one trend or consumer behavior," Diegelmann said. "They're looking at all of them. That's why iCushy offers benefits like multiple payout options, PCI Level 1 compliance, quick and easy checkout, unapparent descriptors, one-time registration, QR code shopping and weekly payouts."
In addition to DBM Videovertrieb, iCushy's current adult industry business partners include First Mobile Cash, Sex Goes Mobile and Broker Babe. Diegelmann said representatives will be on hand during The European Summit in Budapest, where they will demonstrate the app.
"Please check out iCushy.com for more information or arrange a meeting with us at the show," Diegelmann said. "Our sales team is looking forward to seeing everyone in Budapest."
Comments are closed.