Nothing is Certain Except Porn and Taxes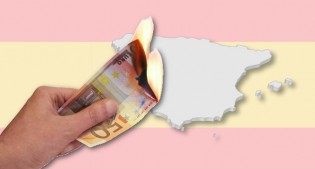 MADRID – As part of a plan to curb Spain's runaway budget deficit, in 2012 the government instituted a new tax scale that left the entertainment industry reeling. The 8-percent tax on ticket prices for live entertainment and movies skyrocketed to 21 percent, only slightly behind Denmark's highest-in-Europe 25 percent.
The net result? Audiences plummeted by 33 percent, the number of live performances declined by 26 percent, and revenues fell by 14 percent.
Never make an artist angry, because creativity has a dark side. In this case, one theater company created a way to get around the tax burden: change its official business classification to publications distributor, sell 20-year-old pornographic magazines for the same price a theater ticket would cost, and include theater admission as a free gift with purchase.
Spain's tax on publications is a mere 4 percent.
Primas de Riesgo's initial stock of the magazine Gente Libre sold for 16 euros, allowing 300 "readers" to attend the theater company's production of a 17th-century drama by Pedro Calderón at a price everyone could afford.
Everyone except the government.
"This is a stand against the government," Karina Garantiva, the company's 33-year-old director, told Business Week. "If we allow a super-reduced rate for porn and punitively tax works by Calderón, who is part of our national heritage like Shakespeare for the British, then as a society we're lost."
Spain's entertainment industry was the hardest hit by the new tax structure enacted by Prime Minister Mariano Rajoy's conservative government. Other sectors—including sporting events and personal services like haircuts—also saw significant tax increases, but none as severe as the theater and movie industries' nearly 300-percent rise. With Rajoy facing increasing criticism ahead of next year's general election, he has promised to cut taxes on some of the leisure products and services consumers enjoy…but the theater and movie industries' tax rates are not on the table, he has said, because that sector of the economy must "do its share" to help the country recover from financial crisis.
The public is not amused.
"The theater sector doesn't have a massive impact on the deficit," José Carlos Diez, an economics professor at the University of Alcalá, told Business Week. The government "could reverse the [tax] rate [increase] whenever they want, but they made a mistake increasing it and they don't want to admit the error."
So much for the argument that porn serves no useful purpose in society.
Comments are closed.