'Porn for Women, by Women' Site Gets a Redesign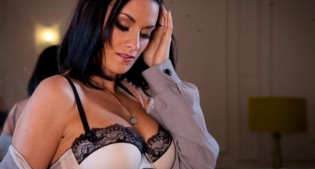 PARIS – Slightly less than a year after initial launch of Dorcelle.com, French adult studio Marc Dorcel has redesigned and reintroduced its online gateway to adult content "for women, by women."
In its first incarnation, Dorcelle.com was a webzine catering to the erotic tastes of women. The site included primarily female-centric XXX videos and a blog, along with a smattering of news, interviews and sex advice. Those things remain, but the topics have been reorganized and presented in an eye-catching, easy-to-navigate, decidedly feminine interface. The section entitled "Editorial," for example, gathers news, sex tips and interviews in one place. A subsection called "Hunks" presents interviews with popular male adult performers including James Deen, Nacho Vidal, James Brossman and Manuel Ferrara.
A new section called "Shopping" provides candid product reviews of lingerie and adult toys. Likewise, the "Videos" section presents mini-reviews of more than 100 softcore, hardcore and instructional movies selected for their appeal to a female audience, complete with links to online pay-per-view versions.
According to a spokesperson for the site, "Women want to masturbate exactly like men do. They want to talk about sex freely, without having to use the medical angle."
That theory was strengthened by a study Marc Dorcel commissioned from international marketing firm [i]Institut Français d'opinion Publique[/i], which determined 82 percent of women have watched an adult movie. Twenty percent indicated they watch porn "often."
Interestingly, the study also determined that the reality of women's relationship to porn is quite a bit different than what popular common knowledge would lead observers to believe. Women, it appears, enjoy a wide variety of sex acts and scenarios across the spectrum from glamour to ultra-hardcore, but 35 percent of them prefer their porn to depict realistic sex scenes. Natural-looking performers is high on the list of preferences for 40 percent of women, and script quality and actor attractiveness score as essential with 37 percent and 35 percent, respectively.
The complete IFOP report is available here.
Comments are closed.