Punking Amateurs Pays Off for One Affiliate Program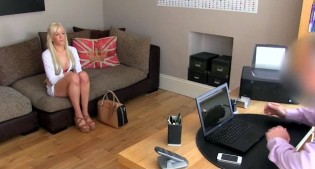 PRAGUE – Another day, another casting couch. One European affiliate program has found such success with the formula that it recently launched the fourth website in a series that employs the tactic.
FakeAgentUK.com — like FakeAgent.com, PublicAgent.com and FemaleAgent.com before it — claims to trick unsuspecting women into performing sex acts in exchange for a non-existent shot at stardom. Affiliate program ReallyUsefulCash also riffs on the theme at FakeTaxi.com.
According to program manager Robert Levy, parent company ReallyUseful Ltd. is playing to its market with the new site.
"We connect with our member base constantly so we can shape what we're doing around genuine feedback from regularly paying members," he said. "We've had tremendous results from both FakeTaxi.com and FakeAgent.com. There is just something compelling about the content our team produces for these particular sites. It converts, so we developed this new brand."
Even in a fantasy world like that created by adult entertainment, consumers aren't as gullible as they once were, however. In order to get porn fans to buy into the whole amateur-trickery notion, producers must do quite a bit of convincing, according to ReallyUseful Chairman JT.
"The casting couch format is tried and tested," he said. "If you get it right, you're guaranteed results. With FakeAgentUK.com, we have interviews, hilariously authentic and surprising moments, real female orgasms, anal sex, creampies, huge cumshots and an array of British girls who are largely unseen on all the major tube sites."
His team must be "getting it right," he added, because ReallyUseful has developed a fan base of more than 20,000 active members since the company launched its first pay site in 2011.
ReallyUsefulCash pays a 50-percent recurring revenue share. JT said the program plans to launch six more pay sites this year, followed by another six in 2014.
Comments are closed.