'REAL Fifty Shades' Tribute Debuts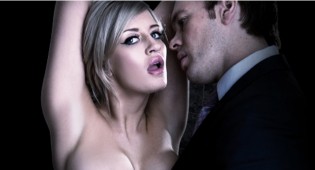 LONDON – Television X, a force in British adult entertainment, caused controversy and outrage last year with a string of porn parodies culminating in Gobblecocks, which whipped Channel 4 execs into a frenzy.
TVX is at it again with The REAL Fifty Shades, and adult take on the E.L. James trilogy that has sold more than 5.3 million copies in the UK alone.
Director Liselle Bailey, with her penchant for reality-based erotic fare, was the obvious choice to direct, TVX execs said. Ex-English teacher Bailey, who hit the tabloids five years ago with the announcement she was quitting the classroom for the adult entertainment business, since has directed a string of award-winning series including This Porn Life, Liselle's Sordid Summer, Girlie Weekend and Freshers.
Bailey's vision for The REAL Fifty Shades kept the movie dark and gritty. She wanted genuine chemistry in the power play to ensure her performers delivered real sex with passion and enthusiasm. The end result is a female director's sex-positive perspective on a series of extremely intense sexual experiences.
"This is the first time in ages that I've got really turned on writing a script," Bailey said. "There's serious sexual tension in this movie — very, sexy sex. Porn isn't always that, so I think this will appeal to couples and women that want bit more. But guys will like it too. It's still very much a porno. Very full-on."
The cast features BBC Any Dream Will Do star Craig Chalmers (aka Ryan Ryder) and Geordie industry newbie Sienna Day. The REAL Fifty Shades bursts beyond the vanilla restraints of Hollywood convention to put the porn in "mummy porn" by delivering an explicit, erotic fantasy.
A safe-for-work trailer is here.
See the entire production on TVX's website, TelevisionX.com, or watch on Sky 903, Virgin 970 and Freeview 171.
Comments are closed.