20th Century Problems: Used Porn Disposal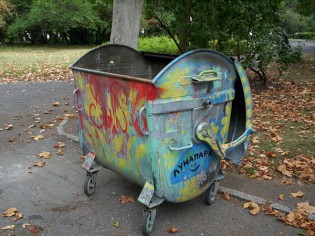 LONDON – In my grandfather's day, there really was no such thing as a "porn industry." Instead, there were informal underground social networks of people who traded and shared things like stag films, pin-up shots and erotic photographs, many of which were likely to have been found legally 'obscene,' had they been caught in the act.
Many such private erotica collections have come to light in recent years, as older porn collectors have passed on, leaving their families to ponder their options for disposal or redistribution of their relatives' smut stashes.
In the UK, one man literally has made a business of taking old porn collections off the hands of their mildly embarrassed and flummoxed inheritors, reselling or shredding large quantities of classic erotica, both commercial and amateur in origin. From magazines and VHS tapes to posters and antique film reels, he swoops in and discretely spirits away troublesome troves of smut.
"There's lots of porn sitting around in people's attics, garden sheds, under the beds," the owner of WeBuyAnyPorn.com, identified only as "Dave," recently told the AFP. "Because certain generations of men are coming to the end of their lives now, we tend to find magazines from the 1970s and 1980s, normal top shelf magazines; Playboys, Penthouses."
Established only nine months ago, Dave's business has already served a wide variety of customers – including at least one member of the English clergy, with the proceeds of the sale going to a very worthy cause.
"I got a call from a vicar, down in the south coast, I can't say where," Dave said. "His church had some houses that let old people in. One of the old gentlemen died and left a lot of magazines. I paid him good money for them and the money went towards the gentleman's estate, the funeral."
Perhaps not surprisingly, the leading reason customers call on Dave is their reticence to be seen dealing with the disposal personally – and to avoid having to explain why they're driving around with three foot-high stacks of porn magazines in the back seat of their car, should they happen to get pulled over on their way to an appropriate dump site.
Freddy, a WeBuyAnyPorn customer who declined to give his last name, told the AFP a story which appears to be pretty typical of Dave's clients.
"My sister cleared the house," after their father passed away, Freddy explained. "She discovered my dad's collection. There wasn't anything mean, just some mainstream magazines, but she was embarrassed and thought my mum would be upset if she knew about it."
Dave is keenly aware his business model might have a limited lifespan, considering the substantial change in how porn is consumed which has taken place over the last couple decades. Dave also feels those changes, along with the increasingly hardcore nature of commercial pornography, have diminished the appeal of porn.
"When I grew up, you were quite lucky if you could see a Mayfair or a Playboy," Dave said. "Now, with a click of a phone, you can see the most outrageous pornography. That has ruined it, it has taken away the mystique, the surprise and the glamour."
Comments are closed.