Scala Playhouse Adds EU Drop-shipping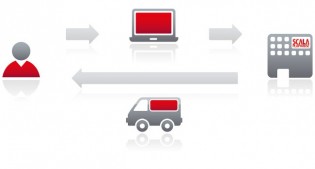 ALMERE, Netherlands – Novelty wholesaler Scala Playhouse, a division of Beate Uhse, has added drop-shipping within the European Union to the services it provides retail clients. The option allows entrepreneurs to add more than 10,000 items from to their internet and mail-order businesses without adding warehouse space, because Scala will ship orders directly to consumers.
"Drop-shipping is the lucrative retail way [to operate a shop] without keeping your own stock," a company spokesperson said. "With drop-shipping, you can focus on your core business: generating more customers. Meanwhile, Scala Playhouse keeps your stock and handles the shipment."
Merchants need no start-up capital and may work from any location with internet access. An account with the company and a web browser are necessary for placing orders. Order placed by noon usually are shipped the same day.
"We have over 40 years experience in the purchase and sale of luxury toys, lingerie, sensual wellness products, and films and magazines within and outside of Europe," the spokesperson said. "Every month we offer new product releases, which are presented in a glossy magazine containing also the latest news."
For more information, visit the website.
Comments are closed.