New SmutNucleus Xmas Ad Draws Criticism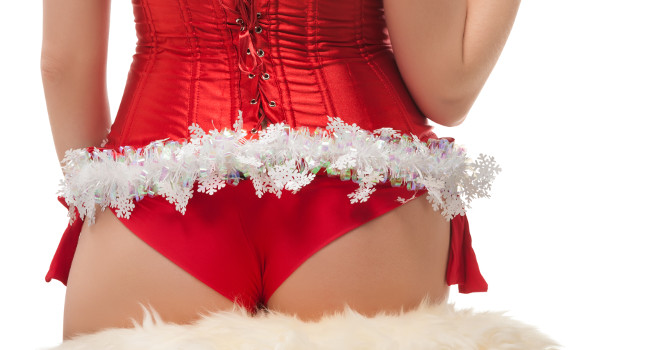 MONTREAL – In what has become a Christmas tradition unto itself, popular adult tube site SmutNucleus has released a Christmas ad, and critics are lining up to assail the spot as offensive, unnecessary, exploitative and sung slightly flat during the chorus.
Entitled "A-Holey Night," the SmutNucleus ad features an alternative rendition of the Christmas classic "O Holy Night," which has been performed or recorded by many legendary recording artists, including Bing Crosby, Perry Como, Whitney Houston and someone called "Cher" — who, judging by the one-word moniker, must be a Brazilian soccer player.
In the new SmutNucleus version of the song, which is accompanied by a mournful scene of would-be masturbators logging on only to find their Wi-fi is down, the lyrics have been altered significantly from the familiar version composed by John Sullivan Wright.
It is those lyrical changes which seem to have most disturbed critics of the ad spot, a population that includes Matthew O'Brien, president of the activist group Catholics Advocating A Christian Christmas For America Again ("CACCA").
"Setting aside the fact it's a mortal sin to watch, produce or distribute pornography, I just don't think these lyrics are at all consistent with the spirit of Christmas," O'Brien said. "I mean, who wants to walk around the neighborhood singing 'A-Holey night, the ass is widely gaping, it is the night of dear our semen's spurt?' Not only are these lyrics disgusting, they're also not about giving or joy or Jesus, or even Santa. The song appears to be entirely about anal sex, something I assure you the Magi never engaged in."
Cory Cost, vice president of SmutNucleus, said he thinks O'Brien and other critics of the ad spot "need to lighten up."
"We just wanted to give our fans a little Christmas cheer in the form of a shareable song which they can use to let everybody among their friends and family know they masturbate regularly, possibly even habitually, to the thousands of hours of user-generated, sexually-explicit content found on our tremendously popular and entirely legally defensible erotic website," Cost said. "And since a lot of our fans are self-proclaimed 'ass men' and/or 'ass women,' the anal theme is entirely appropriate."
O'Brien strongly rejected Cost's point, however, angrily asserting that "maintaining the dignity of the Christmas season is far more important than giving perpetually sinning SmutNucleus users a filthy little ditty to share with their equally perverse friends."
"Even if they have no respect for the sanctity of Christmas as a religious holiday, you'd think the people behind SmutNucleus would at least see some sense in staying in their own lane, so to speak," O'Brien said. "How would the owners of SmutNucleus like it if I started uploading to their site scholarly videos featuring solemn lectures about the Catechism, or better yet, anti-porn sermons? They'd be outraged, even though it would do their sicko site users a lot of good to hear it."
Cost said the analogy offered by O'Brien is "fundamentally flawed," because SmutNucleus published its Christmas song on a platform that isn't associated with the Catholic Church.
"It's not like we're traveling to every diocese we can find and going door to door singing 'A-Holey Night' to the shocked and dismayed Catholic residents therein," Cost said. "Although, come to think of it, if we did that and filmed the whole thing, the video would probably go viral in a heartbeat, so maybe it's not such a bad idea."
Cost also pointed out some of the lyrics to the popular Christmas carol have not been changed, which he said O'Brien "conveniently ignores."
"We still have the line about falling to your knees in there," Cost said. "Naturally, Mr. O'Brien and his ilk aren't about to point that out."
O'Brien countered by observing Cost only quoted the first part of the line, leaving unmentioned "significant twisting" of the rest.
"Sure, they do sing 'Fall on your knees,' true enough," O'Brien conceded. "But in the original version, this lyrical demand is not followed by 'and suck your partner's penis.' I think it's safe to say Reverend Dwight would not have approved of this undermining of his beautiful wording, either."
Comments are closed.