Softcore Lesbian Action Can Woo Consumers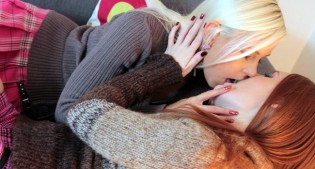 PRAGUE, Czech Republic – Men are fascinated by girl-girl sex. Women having their way with one another has been a mainstay of adult entertainment and mainstream curiosity since long before the internet was invented. That's one thing that hasn't changed even though consumer tastes have become more diverse and sophisticated.
One thing that has changed in the Digital Age is the desire for content that balances fantasy and reality such that scenes and performances display high production values but present the appearance of genuine emotion.
"Pro studios often make the mistake of taking lesbian sex videos to strange extremes while attempting to make the niche more hardcore, and amateur sex tapes usually lean too far to the other end of the spectrum with self-gratifyingly artistic sex tapes," opined producer Lew Thomas, adding that finding the "G-spot" between extremes can be challenging.
The latest website in the swarm he oversees for a European production company offers the "warm, wet mouths and writhing models consumers want to see," he added.
"We created KissingHD.com to find the G-spot between the two extremes," Thomas said. "A softcore companion site to Lesbea.com, KissingHD is aimed at mainstream platforms where affiliates can promote safe-for-work content as an erotic alternative to hardcore lesbian porn."
The site's videos include modest nudity but allows viewers to imagine how the scenes end. High-definition camera work and extreme close-ups provide the production quality sophisticated consumers demand, according to Thomas.
"The free-porn era has overexposed people to hardcore sex acts which are not representative of many real-life relationships," he said. "Whether you are a lesbian lover, bi-curious sweetheart or kissing enthusiast, KissingHD.com is a sex-positive site designed to educate viewers about loving connections and the sexual intensity real relationships actually ignite. We are proud of taking this step to create socially responsible erotica that accurately represents the real sex shared by lesbian ladies in love."
An affiliate program pays a 50-percent recurring revenue share.
Comments are closed.