Stripchat's Warlock Princess Bares All in New Interview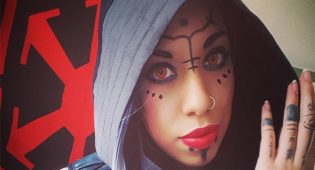 Specialty cam site Stripchat introduces its premier cam girl Warlock Princess (aka Terra Storm), a gamer girl that's looking to incorporate her lifestyle into her webcam work.
Video: https://www.youtube.com/watch?v=Ke8MFGaGyBI
"I really try to create an epic gamer brand on the site. I want to connect with all the horny people, but also the gamers so that we can all nerd out together. Mainly, I stream Blizzard games. So games like World of Warcraft, Overwatch and Heroes of the Storm," the model revealed in a recent interview.
While Warlock Princess never originally thought about camming as a career, she was inspired by other performers. "The cams that I typically viewed, and still view, are so full of life, and the models seemed to always be so happy and genuinely love what they do," she said.
The Warlock Princess/Terra Storm brand "is me taking the initial cam expectations – naughty bits and sexy time – and adding my own nerdy flair and true self to it as well.  I don't shy away from having full on nerd conversations, having cosplay days, or even gaming while camming.  It makes viewers feel more at home.
"About 99% of my loyal fans are true-blue nerds at heart… as long as there are fun nerdy themes, maybe even some sexy elf action, and plenty of ass and oil to go around – then everyone has fun!"
Fans that want to know more about Warlock Princess can visit her Stripchat channel at Stripchat.com/WarlockPrincess or find her on social media at Twitter.com/TerraStormOff and Instagram.com/terra.storm.
For more information visit https://stripchat.com.
ABOUT STRIPCHAT:
Stripchat is a brand-new adult live cam site that creates an interactive striptease experience between amateur models and their online paramours in a discreet, secure setting that captures an intimate feel with hare the same X-rated interests.
The token-based membership site is free to join, easy to navigate and its homepage boasts hundreds of private 'rooms' with models on call from all over the world, offering private shows – including the exclusive Cam2Cam performance – as well as video/photo content and messaging/chat service.
Stripchat offers added member benefits such as adjustable security/profile settings, advanced search functionality, saving favorites, model friend requests and Upgraded User status for the ultimate in membership rewards.
Comments are closed.