Studio 20 Expands in a Growing Market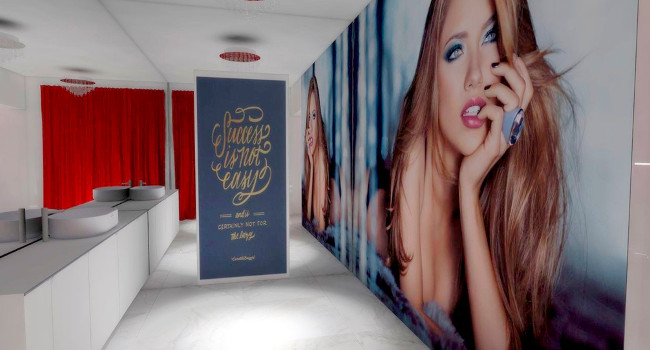 CLUJ, Romania – A new franchise in northwestern Romania brings to three the number of locations composing live-webcam network Studio 20's real-world presence.
According to Manager Robert Vanderty, "The pilot business generated more than 900,000 euros last year. This information has convinced a number of business entrepreneurs that a business in glamour live cam is an important way of earning profit if it's managed properly."
The new Cluj franchise, established by "some young developers" at a cost of nearly 100,000 euros, is located on Louis Pasteur Street. The facility houses 20 models and a support team of six people within 300 square meters of interior space.
"We took a look at the figures on the [balance sheet] of the franchise, and we agreed there isn't a more appropriate deal for us than Studio 20," said Andrei, co-owner of the Cluj franchise. "This due to the guidance we receive from Robert's team.
"It is obvious that when we applied for a franchise contract, we had a completely different opinion about this field," Andrei continued. "We want to generate profit with our studio; we want everyone involved in our business to earn money from it. For this to happen, more than 100,000 euros was required in order to hire trainers for the models and a team to deal with the technical challenges."
Florin, the other owner, said the partners also invested in an aggressive growth strategy.
"Besides the support of our colleagues from Bucharest, we have chosen some trainers from sales and telesales fields that work  in some multinational companies in Cluj to give us a hand in training the models," he said. "We plan to retrieve the investment by the end of next year and to gain profit as soon as possible."
Studio 20's two previous studios are located in Bucharest — the original near the North Railway Station and a franchise in Victory Square. The latter opened earlier this year.
Vanderty attributes the success of both projects, in large part, to the popularity of Romanian models and Studio 20s extensive training program.
"From our evaluation there are more than 100,000 models from Romania registered on the great live cam sites," he said. "Only some of them are able to fulfill their financial dream in this field. In order to do that you have to put yourself through training and guidance. After that, you can hope to earn $3,000 to $10,000 per month as a model."
According to Studio 20's estimates, the live-cam model market grew 10-15 percent during the first nine months of 2015. In part, the expansion is due to a change in legal status for the industry. In 2014, more than 90 percent of cam-studio revenue was earned on the black market. Changes in Romanian law during 2015 raised the percentage of legal revenue to more than 50 percent of the total annual earnings.
"Over $100 million are generated [annually] by the Romanian live cam industry, and that means $5 million to $10 million in taxes [for the government] every year if we manage to have a fair competition through a legal activity," Vanderty said.
Studios don't profit alone, he noted. Studio 20 has played a role in the financial and career success of several well-known European models. Both Studio 20 and performer Raquelle Diva received YNOT Awards — Vanderty calls them "European Oscars" — this year.
The cam industry "is not an easy business," he said. "You get sleepless nights, but you must do it carefully and in compliance with all laws. I saw models who first came to us with great circumspection, and now they are self-confident people with important general knowledge and a series of professional lessons pretty well learned.
"Actually, the more they know how to use their communication skills, the more they earn, financial speaking," Vandery continued. "Raquelle Diva, Devious Angel and Sasha Red are examples of such models known worldwide."
Comments are closed.