U.S. FTC Fines UK Dating Site Operator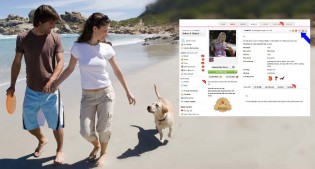 WASHINGTON, DC – In its first law enforcement action against an online dating service, the U.S. Federal Trade Commission reached a settlement prohibiting JDI Dating Ltd., a UK-based company, from using fake, computer-generated profiles to trick users into upgrading to paid memberships and then charging the new members a recurring monthly fee without their consent.
The settlement also requires JDI to pay $616,165 in redress.
"JDI Dating used fake profiles to make people think they were hearing from real love interests and to trick them into upgrading to paid memberships," said Jessica Rich, Director of the FTC's Bureau of Consumer Protection. "Adding insult to injury, users were charged automatically to renew their subscriptions—often without their consent."
According to a complaint filed by the FTC, JDI Dating and William Mark Thomas operate a worldwide dating service via 18 websites, including CupidsWand.com, FlirtCrowd.com and FindMeLove.com. The websites offered a free plan allowing users to set up a profile with personal information and photos. As soon as a new user set up a free profile, he or she began to receive messages that appeared to be from other members living nearby, expressing romantic interest or a desire to meet. However, users were unable to respond to the messages without upgrading to a paid membership. Membership plans cost from $10 to $30 per month.
The messages were almost always from fake, computer-generated profiles, or "Virtual Cupids," generated by the websites' software using real photos in order to look legitimate. A small "v" encircled by a "C" on the profile page was the only indication the profiles were fake. Users were not likely to see, much less decipher, the icon, the FTC noted. The fake profiles and messages caused many users to upgrade to paid subscriptions.
In addition, the defendants failed to tell subscribers their subscriptions would be renewed automatically and they would continue to be charged until they took positive action to cancel. To avoid additional charges, members had to cancel at least 48 hours before their subscriptions ended. Information about the automatic renewal feature was buried in multiple pages of densely worded text that consumers could see only by clicking a "Terms and Conditions" hyperlink. Consumers were not required to access this hyperlink as part of the enrollment process.
The Commission's complaint charged JDI Dating and Thomas with violating the U.S. FTC Act by misrepresenting the source of the communications from fake profiles and by failing to disclose the automatic renewal terms. The complaint also charges the defendants with violating the Restore Online Shoppers' Confidence Act (ROSCA) by failing to disclose clearly the terms of the negative-option plan, obtain express informed consent before charging consumers, and provide a simple way to stop recurring charges.
The settlement order prohibits the defendants from misrepresenting material facts about any product or service and from failing to disclose clearly to potential members that they will receive communications from virtual profiles who are not real people. The order requires that, before obtaining consumers' billing information for a product with a negative-option feature, the defendants must clearly disclose the name of the seller or provider, a product description and its cost, the length of any trial period, the fact that charges will continue unless the consumer cancels, the deadline for canceling, and the mechanism to stop recurring charges. The order also bars the defendants from using consumers' billing information to obtain payment without their informed consent.
The injunction also bars the defendants from misrepresenting refund and cancellation policies, and failing to disclose clearly the terms of a negative option plan before a consumer consents to pay. In addition, the defendants are prohibited from failing to honor a refund or cancellation request that complies with their policies, and failing to provide a simple mechanism for consumers to stop recurring charges. The stop-charges mechanism must be at least as simple as the mechanism consumers used to initiate charges.
The order also prohibits JDI Dating and Thomas from violating the ROSCA and selling or otherwise benefitting from customers' personal information.