What's With The UK Media's Sex-Robot Obsession?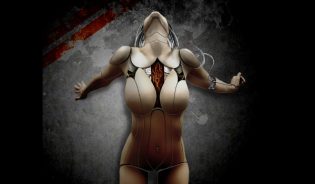 LONDON – By my count, various UK media outlets published 437,708 articles on "sex robots" in December alone.
OK, I'll admit, that's an exaggeration; there have only been 437,504 such articles that I'm certain of; the extra 204 I slipped into my accounting, just in case there's a British tabloid out there I've mistaken for an Australian tabloid.
At any rate, it seems even more than the royals and their impending weddings, the UK media is obsessed with sex robots. The latest example is the Daily Star freaking the fuck out over the prospect of mass production (excuse me, that should have been "MASS PRODUCTION") of a sex robot with moving hands and mouth.
Holy shit; a robot with two body parts which move on their own? As robotic technology goes, that's only about three decades behind the bots which build the cars we drive!
To be fair, this sex robot article is legitimately interesting as a business story – or will become so, if the company behind it eventually realizes its vision for the future.
As noted in the Star piece, currently the sex robots manufactured by Synthea Amatus are little more than "robotic heads attached to voluptuous sex doll bodies," but the company's principals have a very hopeful eye on the future of the sex robot business, based in part on a recent uptick in the media's interest in their flagship product.
"We are ahead of the game with these dolls and still getting lots of enquiries from media all over the UK," said Arran Squire, one of the company's founders. "We continue to develop the robot, making changes to improve her like bringing in more movement for the hands and mouth. The doll is developing all the time."
Fortunately for Squire and Synthe Amatus, UK media outlets aren't the only ones getting excited over the prospect of advancing sex robot technology; in another recent Star interview, Squire said the company is "receiving sales requests daily."
"Feedback is extremely positive," Squire said. "We now need to mass produce."
While production of the dolls is currently divided between the workshop of Dr. Sergi Santos (Squire's business partner in Synthea Amatus) and a Chinese factory which makes the dolls' bodies, Squire envisions a day when production of the dolls might boost the local economy around his home in Holyhead, Wales.
"I'm from North Wales, the area has a high unemployment rate," Squire said. "I hope this could bring employment to local people. Our aim is to make 5,000 sex robot heads and sell them."
Once he's got his Wales factory, Squire said his vision is to make Synthea Amatus a truly international affair.
"Of course, the US is a big market," Squire said. "The UK also has a big market along with Germany. At this time we are concentrating on the European market with the outlook to expand globally."
If the consumers in any of those markets are as keen on sex robots as the UK media, Synthea Amatus should have a bright future, indeed.
There are no comments yet, add one below.