Welsh Shopper Pinched for Changing iPad Screen to Porn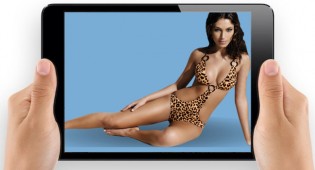 FFORESTFACH, Wales – Practical joking quickly turned to panic when a Tesco shopper was caught red-handed uploading porn to an iPad on display in the store.
Security cameras spotted Ceci Morgan, 40, changing the iPad demo's wallpaper to images "unsuitable for children."
Morgan had attracted store staff's attention before the incident. Though the store did not specify why he looked suspicious, a security guard was tracking Morgan's movements on closed-circuit television at the time Morgan screen-jacked the iPad.
When Morgan played with the device longer than the security guard thought necessary, the guard "zoomed in and could see that [Morgan] had uploaded an indecent image," prosecutor Anwen Evans told the Independent. "He then saw him make it larger and leave it clearly on display in store."
Store employees called the police and reset the device's screen to factory default mode before anyone else saw the offensive image.
At court, Morgan admitted "causing the display of indecent matter" but said he intended the prank as a joke. His defense counsel said Morgan unsuccessfully attempted to remove the image.
"It was intended as a joke, but unfortunately it backfired spectacularly," defense attorney Alex Scott told Swansea Magistrates Court. "He had some difficulty in removing it from the background, and there was an element of panic.
"Yes, it was misguided and immature, but it was not intended to cause distress to anyone else," Scott added.
Morgan was sentenced to perform 100 hours of unpaid work. He also must pay court costs and a victim surcharge.
Comments are closed.