CamContacts Prepares to Set the Torch on Fire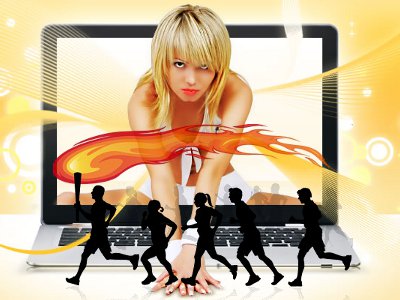 YNOT EUROPE – To help Europe add a sexy edge to the 2012 Summer Olympic Games that will take place in London July 27 through Aug. 12, CamContacts will host a special online contest for chat hosts and guests.
Set the Torch on Fire begins July 18 and runs through July 22, offering players a chance to win cash and prizes. To participate, chat hosts and their guests combine forces to light a virtual Olympic torch with a flaming fireball in an update of the classic slingshot game.
"We've had lots of interest as to when our next promotion will be, and now we're happy to announce it," a CamContacts spokesperson said, noting that the company's previous special promotion, a Valentine's-themed game called Sweet Temptations, paid $44,000 in cash and prizes to 22 chat host-guest teams. "This summer's biggest sporting event just got bigger with our Set the Torch on Fire promo. Now's the time to get to know new people in the CamContacts community and play our new interactive game.
"Here's your chance to hit the jackpot," the spokesperson continued. "Win huge prizes and chat with some sensational women at the same time. We're ready to light up some new fantasies across the world."
Online since 1999, Amsterdam-based CamContacts employs chat hosts from more than 170 countries. The site uses a proprietary video-streaming platform to match viewers and hosts looking for everything from friendship to serious relationships to no-strings-attached virtual affairs. The system is compatible with both desktop and mobile devices.
Webmasters worldwide may promote the product through the CamSense affiliate program, which pays a 40-percent recurring revenue share.
Comments are closed.