German Giant Beate Uhse Hurt by Free Online Porn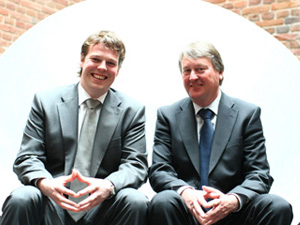 YNOT EUROPE – The adult industry's economy is in a sorry state of affairs when even enormous, respected, diversified pioneers of the industry see their bottom lines shrinking under the onslaught of free online porn.
The latest to blame a loss on virtual porn is German adult retail empire Beate Uhse. The Flensburg-based business, which kick-started the sexual revolution in Germany after the Second World War by offering mail-order sex toys, condoms and sex-education materials, posted a pre-tax loss of 5 million pounds for the first half of 2010. The company posted a profit of 560,000 pounds for the same period in 2009.
A "soft" DVD market—lost to online porn, the company said—is responsible for most of the loss.
Named for its founder, Beate Uhse has been primarily a real-world resource for the sexually liberated in Europe. However, the company plans to move into the virtual realm more aggressively beginning this year. Overall, the plan is to become a "lifestyle" purveyor, Chairman Serge van der Hoof told GermanHerald.com.
"To be realistic, the transformation to a lifestyle company for eroticism will, from today's viewpoint, take another two years," van der Hoof said.
As part of its makeover, Beate Uhse added bedclothes and towels to its marketing mix in 2009, but so far the shift in focus does not seem to have had an appreciable effect on performance.
"Sales in the 258 erotic shops across 11 countries have drooped, with turnover down by 3 million pounds to 21 million pounds," GermanHerald.com reported.
Comments are closed.