Slovakian Affiliate Program Launches First Gay Mobile Social Network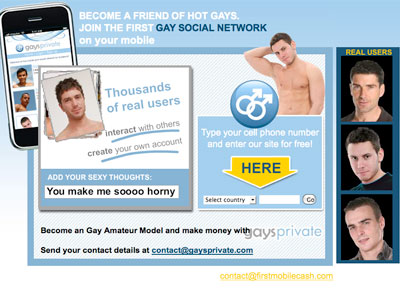 YNOT EUROPE – Mobile affiliate program First Mobile Cash has launched what it believes to be the first mobile social network for gay men.
GaysPrivate.com offers the gay community a new platform for communicating, sharing pictures and sending private videos, a spokesman said. Designed for flexibility, the service allows members to log in anytime and anywhere, rapidly upload content and begin collecting comments immediately.
"This will be the next big cash cow to make money in the social media boom," said First Mobile Cash Chief Executive Officer René Pour. "GaysPrivate.com is the next big thing for affiliates to get the maximum out of their traffic and to make money with a high-converting niche. Webmasters can choose from a wide range of mobile or desktop banners. First Mobile Cash also offers a redirect script which is able to detect whether the user is browsing via desktop or mobile web.
"Now is the right time for mobile web 2.0 services devoted to gay community," he added. "It's not just about downloading private videos and browsing hot pictures. It's about interaction between our members. That's the key for monetizing mobile traffic."
Pour said the site will convert users worldwide, but he's particularly proud of the reaction from the U.S.
"The U.S. is one of the biggest markets worldwide, with users willing to use this channel for fun, entertainment and communication," he said. "Currently there are no borders to growth, making the sky the limit. The mobile network operators and cell phone manufacturers are working on products that will encourage more people to use mobile data services. With this strategy, the mobile target group using our services becomes bigger day by day."
Headquartered in Bratislava, Slovakia, First Mobile Cash specializes in mobile internet portals with a focus on erotic social networks. The company's other mobile sites include Sexbook Amateurs.
Comments are closed.