Gearing Up for the Holidays? Don't Forget Mobile Customers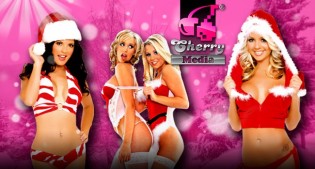 BARCELONA – The end-of-the-year holidays will arrive before you know it. Like every other merchant on the World Wide Web, adult content purveyors already are lining up special holiday offerings and promotions.
With mobile consumption of adult content constantly increasing worldwide, webmasters may want to remember to include mobile-ready materials in their customers' holiday stockings.
With that in mind, Cherry Media launched its 2013 Christmas collection this week.
Every year for the past decade, Cherry has designed a unique, high-performance, commercially focused and themed collection for the holidays. This year's exclusive contains packs of "verticals" complete with marketing tools and artwork designed to decrease partners' publication costs and increase profit margins. According to Cherry Media founder and Chief Executive Officer Julia Dimambro, some partners have noticed revenue increases of as much as 100 percent during November and December as a result of deploying Cherry's Christmas content.
This year, the company is trying something new: combining festive content with some of new technical and publishing services Cherry also now offers. The extras include:
Christmas-themed mobile video feeds and video-on-demand sites.
Design services for mobile and web-based seasonal promotions, m-sites, landing pages, etc.
For the first time, offering licensed Android apps filled with the company's best-performing saucy Christmas content.
"Thanks to Cherry's new in-house app-building technology, we can now offer all our collections in Android device format for partners to distribute via Google Play or their own [business-to-consumer] channels," Dimambro said.
"Cherry's Christmas collections have a major footprint in substantially increasing our partners' festive, seasonal revenues," she continued. "We have launched Cherry's 2013 Christmas Collection to be available specifically as from today, so that partners can benefit from maximum selling time with some of the best-performing content and services available on the market today."
The collections are available in three grading levels — glamour, topless and hardcore — to meet the regulatory needs of various markets. A no-obligation demo is available. For details or more information, email the business development team.
Comments are closed.