Glamour Gets a Reboot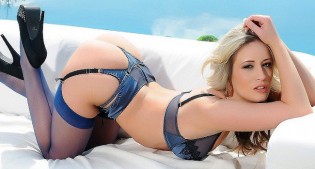 LONDON – A new website features more than 100 British glamour girls posing in — and out of — swimwear and lingerie.
Cara Brett, Ashley Emma, Tommie Jo, Melissa Debling are among the models at ThisIsGlamour.com. The site offers more than 500 striptease and behind-the-scenes videos along with "thousands of professional-quality images," according to a spokesman for the affiliate program that manages the virtual property.
"After nearly a year in hiatus, we're delighted to bring this site back to the front lines as one of the top adult destinations for high-end photography and videos of some of the world's most stunning women," said director Scott N. "We've been filming fresh content for the site the past year, and the results are absolutely breathtaking, featuring spectacular settings from the countryside in the UK to the Villas of Spain."
GlamourBuckz chief Danny Zeeman said the redesigned site accomplished what the company had set out to build.
"From the beginning, we wanted to create a website that felt like a high-end men's magazine, which is what Scott and his team were accustomed to shooting for. With striptease videos, glamour photography, in-depth model profiles, behind-the-scenes videos and personal anecdotes for each content set written by the photographer himself, I think we accomplished that.
"The website allows surfers to discover these women's personalities, which makes them seem all the more real and engaging," Zeeman continued. "That personal connection is what has been paramount to the success of GlamourBuckz, and ThisisGlamour surely will not disappoint the many fans of the genre."
GlamourBuckz provides sponsor galleries, zipped photo files, embedded and hosted videos, blog collages, banners and more. The program pays a 60-percent recurring revenue share or up to $40 per sign-up.
Comments are closed.