This is Glamour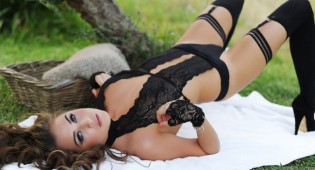 LONDON – "We want to tell the world that you don't have to have a 26-inch waist to be a superstar glamour babe." That's one of the principles Scott N., photographer for ThisIsGlamour.com, sees guiding the website during 2015.
The site recently underwent a tour makeover and has restructured its marketing approach. According to company director Danny Zeeman, the site will continue to cater to men who love glamourous women. Going forward, though, the company will strengthen its appeal to women.
"We've always prided ourselves at showing that curvy, more busty women like Lucy Vixen can be glamour stars, and they tend to be our most popular models," Scott N. said. "We want to make ThisIsGlamour more than just a site for men who love gorgeous girls, but also for the women who might also be attracted to or interested in learning from our stars."
The site already offers hundreds of softcore tease video and photosets of top UK glamour models. To that, the staff and performers are adding more interactive videos, behind-the-scenes-footage, star tips for grooming and tricks of the trade for taking the best selfies.
The new approach seems to be working.
"We designed the new tour to better showcase the beautiful models and exquisite photography contained within" the site, Zeeman said. "We think it's a knockout and are already seeing greatly improved conversions for our affiliates."
ThisIsGlamour is part of the GlamourBuckz affiliate program, which pays a 60-percent recurring revenue share or as much as $40 per sign-up.
Comments are closed.