Helen Clyne: European Trailblazer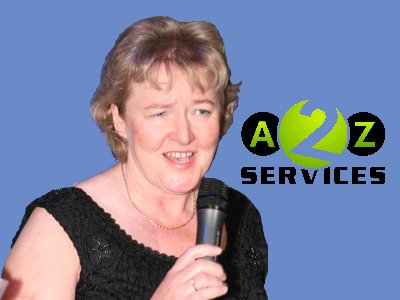 [COLOR=red]Exclusive to YNOT Europe[/COLOR]
YNOT EUROPE – Among the few women active behind the scenes in Germany for more than a decade, native Englishwoman Helen Clyne undoubtedly stands out. When she emigrated to Germany, she brought with her the first DVDs from major U.S. brands for the German market. Soon, she had established Hustler Europe in Germany, where she served as the managing director for the continent. Now she distributes adult content under her own brand, a2z Services, which offers not only Hustler apparel and films, but also products from Penthouse and many other major adult companies.
But that's not all she does, as Helen told YNOT Europe in an exclusive interview.
YNOT EUROPE: Helen, you are in many respects "unique" in the German and global erotica business. First of all, you're one of the few women who has been around, so to speak, from the beginning of Germany's porn industry. How long have you been involved, and how hard was it for a woman to get a foothold in this business?
Helen Clyne: I've been in the adult industry since 1998. I started marketing adult DVDs in the U.S. and later in Germany.
Every business is hard to break into, and it usually does not matter whether one is man or woman. If you want to achieve something, you have to work hard to to get it. But that's the beauty of this business: Women, no matter what their actual job, always will play a very important role in adult.
Do you feel the attitude about women in this industry is changing?
I can only speak for me personally and say that I've felt discriminated against as a woman in this business before. Now, however, there are many powerful women in adult, not only in front of and behind the camera, but also running some of the largest firms. Three names in particular occur to me, and I work very closely with them: Theresa Flynt (Hustler), Kelly Holland (Penthouse) and Wendy Crawford (Adult Source Media).
You've worked not only in Germany but also in the U.S. and on a global scale. Who are you working with now and what portfolios do you represent?
For a long time now I have owned my own company, a2z-services. In the portfolio we have Hustler and Penthouse, two of the three most important "adult iconic brands." Add to that the lines offered by Pulses Distribution (with its huge portfolio) and brand new studios including Adult Source Media, Good Night Media and Nightingale Pictures plus the work of Lee Roy Myers and Rebel Studios and David Lord.
With which employer have you most enjoyed working?
My own company! Over the years, I have always worked more as an independent contractor than an employee.
Which of your employers do you remember most fondly?
Simple: Hustler Europe, a subsidiary of Larry Flynt Publications, where I worked as a manager. I built and ran the European operation from the start.
How do the international markets differ?
We sell in Europe, and there are only a few differences across European market. In Germany, DVD sales remain strong [unlike in the U.S., for example]. One significant difference is the way each country approaches the protection of minors; another is that Germany has become dominant in the distribution sector in terms of its structures.
You keep a close eye on fan trends. What have you seen so far this year in the erotic-pornographic market as far as fans are concerned?
I am by my very nature a hustler. I love networking and synergies. Last fall, blue became my favorite color when This Ain't Avatar XXX 3D released. That movie merged perfectly with fans' desire in terms of content, technology and timing — in fact, everything — demonstrating yet again the Midas touch of Larry Flynt.
After that, my favorite color changed to yellow with Simpsons: the XXX Parody by Lee Roy Meyers, who joined LFP in our European distribution.
Now we look forward to working with Wendy Crawford's Adult Source Media and distributing all of Lee Roy Meyers' movies, from Pron to Katy Pervy and many others.
3D is going to be a huge trend, as LFP demonstrated with This Ain't Avatar XXX 3D and just this month with This Ain't Ghostbusters XXX, the next great 3D porn production on the market. Directly behind that, after two years of intensive work with the 3D technology, is the upcoming Penthouse title Real Pornstars of Chatsworth. This is their very first full-HD, true 3D DVD, and we will have it in Europe. Hustler and Penthouse, two American giants, have already made the necessary investments in order to inspire fans with this new technology. Thus, the adult industry still is playing its role as a pioneer of new techniques in film entertainment.
To get and keep fans, one must offer them an experience, no matter in what segment of the entertainment industry you work.
Comments are closed.