Iceland Politicians Want Ban on Online Porn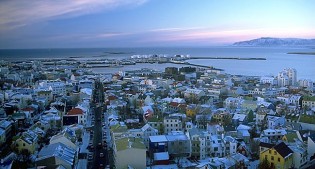 Some politicians in Iceland believe that online porn is a risk to children, and are moving to ban adult entertainment on the internet.
'"There is a strong consensus building in Iceland," claimed Halla Gunnarsdottir, an adviser to the nation's Interior Minister. "We have so many experts, from educationalists to the police and those who work with children behind this, that this has become much broader than party politics.  At the moment, we are looking at the best technical ways to achieve this. But surely if we can send a man to the moon, we must be able to tackle porn on the Internet."
It's not clear that Iceland ever did send anyone to the moon, or why police would be experts on freedom of expression.  However none of this stopped Iceland from banning printed pornography and strip clubs – the latter in the name of protecting women, of course.
It appears in fact that Gunnarsdottir may well believe that the young's interest in sex is strictly because of adult entertainment, although such media didn't appear to be in play when Romeo and Juliet hooked up.
"This move is not anti-sex. It is anti-violence because young children are seeing porn and acting it out," said Gunnarsdottir. "That is where we draw the line. This material is blurring the boundaries for young people about what is right and wrong."
Right.
As to how they would accomplish the mass censorship?  Current ideas range from blocking IP addresses to making criminals of people who use credit cards to buy porn.
Iceland would be the first Western democracy to ban porn if it succeeded in doing so, but not everyone in the country wants to take on censorship.
"Since he claimed office as minister, Jonasson has brought forward progressive legislation and has shown that he can be a man of principles and courage. For that, I truly respect him," said Birgitta Jonsdottir, a member of Iceland's parliament.  "But he is way off track in his attempts to place a shield around Iceland in order to 'stop porn' from entering the country."
Jonsdottir says there is little chance an attempt to ban online porn will pass into law.
"Introducing censorship without compromising freedom of expression and speech is like trying to mix oil and water: It is impossible."
Comments are closed.