In Ireland, Watch for Falling Porn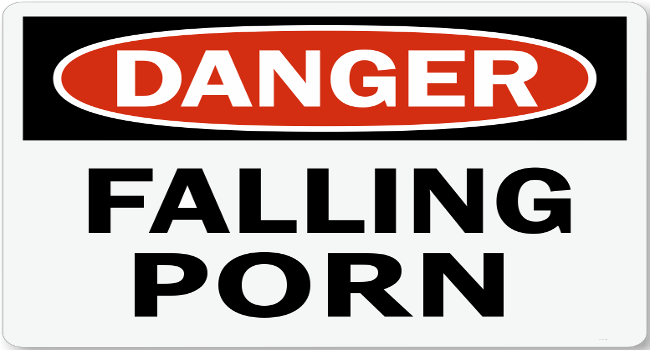 By Dewey Truman
Special to YNOT
DUBLIN – According to the head of the Irish government, citizens of Ireland, with increasing frequency, are finding themselves crushed beneath an "avalanche" of pornography.
"There is clearly an issue there that needs to be addressed and [it] is very hard to address it given the range and the velocity of the avalanche," said Taoiseach Enda Kenny. "What used to be termed the 'lads' magazines' have now grown to be replaced with pornography that is as ubiquitous as it is damaging."
While the specter of massive troves of pornography falling and crushing passersby is frightening enough on its own, Kenny claimed the damage being done goes well beyond the obvious physical consequences of being buried beneath a cavalcade of smut.
Not only is porn responding to gravity in the same way virtually every other earthbound object will when given the opportunity, it is also "coming at young people" in a way that is impossible for their parents to forestall.
"Older generations … just can't reach into those spheres where young minds are being, in some cases, corrupted and tainted," Kenny said.
Some Irishmen aren't convinced of the truth of Kenny's claims, however, saying he's exaggerating porn's influence — and even worse, simply making up the bit about porn avalanches affecting the countryside.
"Oh, he's just an utter gowl, that Kenny," said Colin Neeson of Killarney. "I've been all over these hills and found nary a DVD case, much less a stack of magazines large enough to crush a man, should it set to tumbling."
Gabriel Branagh, a cider brewer who hails from Clonmel, concurred with Neeson and said he believes Ireland faces bigger problems than alleged landslides of licentious material.
"Aw, he's just fear-mongering, that Kenny gombeen," Branagh said. "There's no more sense to a bogger keeping an eye out for falling porn than there would be in creepy clown-proofing his banjaxed farmhouse. I mean, cop on, let's stall the ball, stop acting the maggot and focus on our real problems, like the precipitous decline in farm incomes or pathetic lack of services in our rural areas."
Others agreed with Kenny, however, and expressed real concern about the prospect of being buried beneath a sudden flood of fuck flicks.
"You've got to be absolutely stocious not to see the fierce risk presented by the increasingly unstable porn mounds interspersed around the Éire," said Paddy Heffeman, a peat log manufacturer from Ballydesmond. "Just last week, I had to swerve my truck to avoid a big slide of porn-packed thumb drives when I was on the N20 up near Blarney Castle. I called in a report to the regional roads authority, but all they did was laugh and call me a spanner, the gammy gimps."
Clearly, falling porn is a major problem in Ireland, but do we face a similar threat here in the U.S.?
"For the last time, please up your meds and stop calling us with questions about dangerous roadside pornography," a media relations representative for the Dept. of Transportation said when I asked about the domestic risk of porn avalanches. "And before you ask again, no we still haven't received any reports about roving gangs of creepy clowns hijacking shipments of candy corn."
Sensing a possible cover-up in progress, I also reached out to representatives of the Federal Highway Administration, who declined comment other than rudely suggesting I "get bent."
Noted conspiracy theorist and radio talk show host Alec Jonas, however, told me American porn avalanches are "very real" and "almost as common as black helicopters and alien abductions put together."
"American needs to wake up," Jonas said. "As we speak, a sinister international cabal of media and banking moguls is conspiring to construct massive porn piles just outside of every major American city. Once those have been constructed, the government will issue a call for people to evacuate all urban centers, leading innocent civilians right into a smut ambush the likes of which we haven't seen since President Franklin D. Roosevelt rounded up Japanese people by ensnaring them in manga leaflets back in 1942 as part of Executive Order 9066.
"A lot of people don't know this," Jonas added, "but that executive order was actually written by shape-shifting Hispanic Muslim space aliens from the Pleiades who long ago infiltrated this nation by illegally crossing our southern border as part of a plot to enslave Americans and take away our guns."
Dewey Truman is a freelance investigative journalist who is so busy compiling and analyzing facts, he doesn't have time to actually read any of the sources from which he gathers said facts.
Comments are closed.