Italy's Potential for Mobile Billing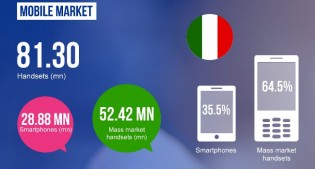 BRUNN AM GEBIRGE, Austria – Italy's flourishing economy and status as one of the world's most well-devloped mobile phone ecosystems make it an attractive market for anyone who sells content or services online.
"With a credit card penetration rate of only 30.5 percent, we find that in Italy, mobile payment is the only way to bill digital content across the market," said Gerald Tauchner, chief executive officer for mobile billing specialist Dimoco, which recently released data gleaned from a study of the Italian market. "Our goal is to analyze the market in detail, thereby showing companies in the digital content industry how huge their potential is."
In Italy, 133.5 percent of the population owns a mobile phone. Of that number, 35.5 percent are smartphone owners. Four network operators share the 91.66 million mobile customers: Vodafone (31.7 percent), Telecom Italia (29.6 percent), Wind (27.3 percent) and 3 Italia (11.4 percent).
A graph revealing all of Dimoco's Italian data is here (extremely large file).
Currently, Dimoco enables one-off web content transactions of up to 15 euros to be billed via one-click payment. Subscription services may direct-bill up to 6.10 euros for mobile and web content.
Comments are closed.