Jenna Creed stars in the newest VR Bangers Trans' Video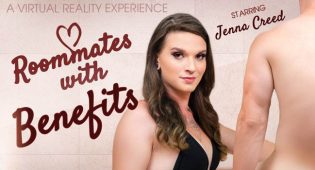 Europe – How many of you ever had a sexy roommate? Literally any beautiful female flatmate with whom you would just love to "enter the higher level of familiarity" but it has never been given to you? VR Bangers Trans, one of the premium Shemale VR porn movies' makers, have taken this idea really personally, successfully turning it into yet another of their TS VR porn fantasies.
"We believe that the more realistic our VR porn fantasies, the better and the more immersive the experiences of our fans are gonna get," explains Alex Nash, the producer of VR Bangers Trans. "Since having a sexy roommate is definitely something that could have happened to pretty much every single one of us, turning this idea into a TS VR porn fantasy was relatively easy – especially with such a talented T-girl as Jenna Creed. We chose her since she is a really natural and forthcoming person with a lot of wonderful talents – we honestly thought that such a set of skills will be simply the best for such a lifelike VR porn fantasia."
Roommates with Benefits – since that's the name of this TS VR porn video – begins with just an ordinary suspicion of Jenna's sexual orientation, which in no time turns into spying at her and, eventually, a sensual adult film in a steamy jacuzzi. Since in this transsexual VR porn fantasy every craving-for-shemales member of the VR Bangers' family will be in a perfect spot with his VR headset on his head and Mrs. Creed right in front of this face, our sexy T-girl will not even mind this whole peeking at her and simply "let it go" with the guy – becoming the roommate with benefits with all the VRBT's fans in the effect.
"The whole jacuzzi idea seemed to be really fun from the very beginning of making this scene," Alex adds. "After all, if you would ever have to spy on your roommate – to find of whether she has a dick or not – the best thing to do would be to check her out while she is taking a bath… and why should we not use it when it is there already?Since admirers of Shemale VR porn videos sometimes actuallyseem to be even more demanding than the straight ones, we always try to come up with something fresh and new – hopefully yet again we have successfully done that!"
This 6K ultra high definition TS VR porn video is available in 3D 180 degrees on the VR Bangers Trans from the July 5th, so if we have got you interested in having some "fun in jacuzzi" with sexy Jenna, just wear your VR goggles and go directly to the producers' website.
And if you find yourself a fan of transsexual VR porn videos, you can always go to the VRB Trans' main page to browse for such films on your own – the list of these productions only keep on growing with every following day!
Comments are closed.