Juniper: Poles to Pay €5 Billion via Mobile in 2017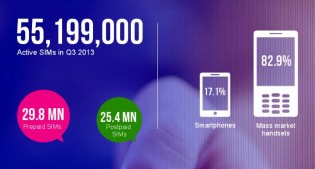 BRUNN AM GEBIRGE, Austria – Less than 18 percent of the Polish population older than 15 owns a credit card, but —statistically, at least — everyone in the country owns at least one mobile phone. According to a new study performed by Juniper Research and mobile payments company DIMOCO, in 2017 Poles are expected to purchase 5.2 billion euros worth of digital content via mobile billing — or roughly one-sixth the total of 29 billion euros expected Europe-wide during the period.
"Poland is one of the most important mobile operator payment markets in Europe," said DIMOCO Chief Executive Officer Gerald Tauchner. "With a credit card penetration rate of 17.7 percent, the question arises how digital content can be billed. This is exactly where mobile operator payment comes in. Besides advantages like a higher conversion rate, the broad cell phone reach makes billing via mobile operator payment so interesting for companies in the digital content industry."
In the third quarter of 2013, 55.2 million active SIM cards were registered in Poland, corresponding to a SIM card penetration rate of 144 percent.
"Our figures show that Poland is one of the most important European mobile operator payment markets," said Juniper Research Director Windsor Holden. "The fact that Poland has a majority of prepaid users — 29.8 million compared to 25.4 million postpaid — demonstrates that operators need to develop strategies designed to focus on and monetise this segment."
He further explained that during the third quarter of 2013, the Polish mobile market appeared split among four mobile network operators: Orange, with 27.3 percent; T-Mobile with 28.2 percent; Plus/Polkomtel with 26.1 percent, and P4/Play with 18.4 percent. With a total population of 38.5 million, the Polish market cannot be overlooked as a significant potential revenue source, but billing via four diverse carriers will require some finesse for most companies.
With mobile operator payment, the process of ordering digital content can be accomplished on every device in Poland, according to Tauchner.
"Consumers can order their content via smartphones or tablets or on their computers and pay for their videos, music, e-books and other digital items via their mobile network operators," he said. "The payment flows are adapted according to the device. For example, a consumer would like to download the current issue of an e-magazine to his or her smartphone and goes online. She or he can directly order the digital content on the mobile website and pay via one-click-payment without needing to use a password.
"In the case of payment flows that start on the mobile web, consumers are forwarded to the mobile network operator payment page, where they can easily confirm their payment," he added.
The Poland study is part of a new initiative Juniper and DIMOCO have established to take a look at the most promising mobile operator payment markets in Europe. Over the next several months, the companies plan to release reports "at regular intervals."
Comments are closed.