Manager Fears Relegation for Favourite Porn Star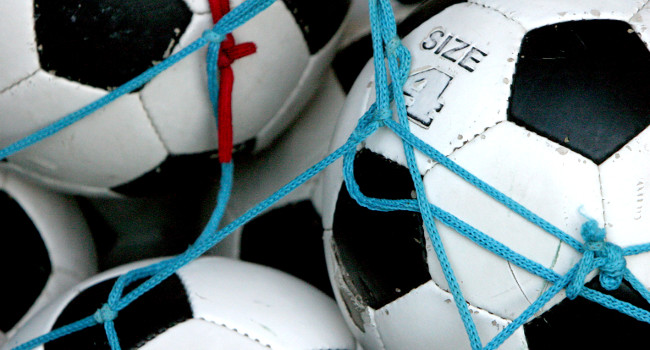 Warning: satire ahead.
EREWASH, England – Sam McManinman may be a successful football manager, but his favorite porn performer is never far from his mind, even in the middle of a major cup tie.
Indeed, at the 25-minute mark of the first half of his team's recent match in the Dennis Moore Lupins Cup against its bitter rival, the Long Eaton Earwigs, McManinman was caught on camera leafing through a copy of AVN Magazine, shaking his head at the most recent sales rankings offered by the publication.
Asked after the match about his odd choice of in-game reading, McManinman shrugged off the suggestion the porn trade publication was inappropriate, explaining his behavior was no different from fans who obsessively check scores of other matches on their mobile devices even as they watch in-person a match featuring their favorite side.
"I'm a huge fan of [performer] Kevin Leer, who is having a bit of a down year across the pond in L.A.," McManinman said. "There were such enormous expectations for him going into 2016, including a lot of analysts who thought this would be the year Kevin was promoted to the SmutNucleus big leagues, but here we are in October and if anything, it looks like he may be relegated to webcam work for the upcoming season — which must be a terrible disappointment for him."
Although he claims it never distracts from his job as manager of the Erewash Rovers, who currently sit in seventh place in the 43rd tier of English football, McManinman conceded that his "entire off-field life" revolves around watching Leer's work.
"I have assembled what I believe to be a comprehensive collection of Kevin's work, from his glorious debut in Fine Ass, Bad Teeth 3 to his most recent superhero porn parody appearance in Fatman vs. Chubby-Chaser," McManinman said. "It would simply break my heart to see him reduced to wanking himself on camera with a cold, emotionless dildo stuck up his arse. He deserves to have his name in lights, not on some tacky, flashy animated gif 'Chat live with me NOW!' button reminiscent of the late '90s internet."
According to some of his players, McManinman's in-game reading of AVN is merely "the swollen purple tip of the iceberg" when it comes to him mixing work with pleasure.
"One time in the middle of a training session, Sam stopped the drills and called us all over to witness Kevin's first live online cumshot, like the lad was landing on bleeding Mars, or something," said Craig Wilson, center midfielder for the Rovers. "I don't mind a little porno now and again, but I've also never enjoyed sprouting a biggie in my shorts whilst practicing shots from the 12-yard spot, so I was a bit put off by the whole thing. Beats running wind-sprints, though."
Admiration for porn performers on the part of footballers and their managers is nothing new, dating back to the days when Diego Maradona famously kept a framed picture of Seka in his locker, which in addition to admiring for inspiration, he allegedly used as a flat surface on which to cut energy-building lines of cocaine before each match.
While McManinman flatly denied ever doing lines of coke off a picture of Leer, he wouldn't entirely rule out the possibility of doing so in the future.
"My goal for this side is to climb the rungs of English football one tier at a time, until we reach the day I find myself watching Kevin's videos in the middle of a pitched battle with Manchester United or Chelsea," McManinman said. "If snorting massive piles of blow off a picture of Kevin's engorged tallywacker is what it takes to get us there, then so be it."
Comments are closed.