New VIP Card Offers Summer Discounts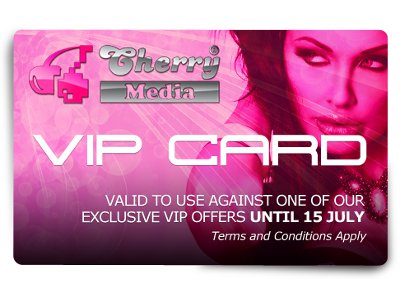 BARCELONA – Cherry Media S.L., the parent company of Cherrysauce, is celebrating its 10th anniversary by giving a gift to everyone else. The Cherry Media VIP Card offers discounts on a range of Cherry products.
Aimed at adult companies, performers and non-adult mobile companies that want to start making money by providing adult content to mobile devices, the VIP card offers:

20 percent off fixed fee prices.
As much as 90 percent revenue share.
Free videos with brand-new content rental deals.
Various discounts for video feeds.
"Many companies are still dragging their feet in terms of properly mobilizing their businesses, even though statistics clearly show that access to these businesses via mobile and tablet [devices] can represent as much as 40 or 50 percent of the total traffic," Cherry Media founder and Chief Executive Officer Julia Dimambro said. "We decided that, as it's our 10th anniversary year, we would offer this amazing summer promotion to get the whole adult world mobilized once and for all, so they, too, can follow other Cherry partners and increase their revenues by up to 300 percent with our award-winning content and services."
Adult companies and performers seeking ways to monetize their content with Android apps also may be interested in a 50-percent summer discount on Cherry Media's Android App Pack. The package consists of five adult peformer apps and two promotional movie apps that can be branded and filled with videos, wallpapers and in-app billing to up-sell additional content. With each app package ordered before 1 July, Cherry will include a free VoD Cinema App, as well. The package also comes with a "model of the day" home screen widget to drive daily consumer purchases. All apps are optimized for Android smartphones and tablets.
"Now you don't have to be a big studio or producer to afford an app, because, for example, a group of adult stars could get together and purchase our Android App Pack, for which, in addition, we are producing an innovative new application aimed at individual adult stars," Dimambro said. "Models interested in extending their brand should contact us directly."
The promotional offer is valid until 15 July. Companies and individual adult performers may apply for a Cherry Media VIP Card by email.
Comments are closed.