'Nuts' Men's Mag, Website May Close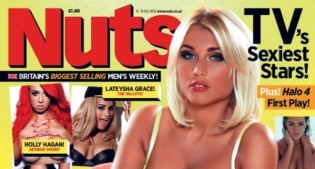 LONDON – Too much competition from free internet porn may doom the British lads mag Nuts and its website.
Publisher IPC Media "has entered into a 30-day consultation with staff about the potential closure of Nuts and Nuts.co.uk," Managing Director Paul Williams said. "After 10 years at the top of its market, we have taken the difficult decision to propose the closure of Nuts and exit the young men's lifestyle sector."
Launched in 2004, the magazine's mix of topless and nude girly photos saw Nuts hit an average weekly circulation of more than 300,000 at its peak. Over the past year, circulation has declined steadily. By the second half of 2013, the mag's sales had dwindled to about 53,000 print copies per issue and fewer than 9,000 digital subscriptions.
Competitor Zoo magazine has fared even worse, selling fewer than 30,000 copies per issue.
Free porn on the internet is not the only challenge Nuts and Zoo have faced. Britain's Co-Op stores dropped both magazines in 2013 after the publishers refused to put modesty bags over their titillating covers.
Nuts also suffered from an unsuccessful attempt to expand: The Nuts TV channel, launched in 2007, closed two years later after failing to attract viewers. IPC moved the channel's content onto the magazine's website, where it continued to underperform.
Comments are closed.