Personality Profile: Epoch's Cristiana Scolaro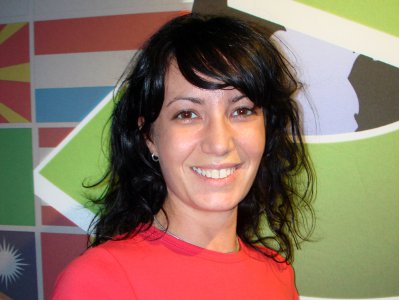 YNOT EUROPE – Epoch is a third-party internet payment service provider, allowing sellers to receive payments online. Cristiana Scolaro, a sales representative for Italy, was kind enough to present an insider's view of the company. Personable and determined, she represents the "face" of Epoch in Europe and often in the U.S., as well.
YNOT Europe: You are Italian, correct?
Cristiana Scolaro: Yes. I am a European citizen of Italian nationality. I speak English, Spanish and French.

How long have you worked for Epoch?
I have been working for Epoch since 2008, usually from Italy where I live. Once or twice a year I go into the corporate headquarters, which is located in Santa Monica, Calif., in the Los Angeles area, to work with the team to which I belong and to receive refresher training.
What is your job like?
I work in sales, offering the payment system designed by Epoch, mainly with European companies and webmasters.
The customer research is done in various ways. I'll be contacted directly by customers interested in our payment system, as it has been on the market since 1996 and is very popular and our name is a guarantee in this area. I also participate in trade shows and events where networking provides new contacts and promotes the consolidation of existing relationships. I'm active on various internet forums, like the one at YNOTEurope.com, and I try to take every opportunity to introduce the European side of the adult industry to Epoch.
How do you like working for Epoch?
Epoch's organization, professionalism and reliability are the foundation of all relationships the company makes. I had never worked before for a U.S. corporation structured in this way, so I had no idea what to expect or how I would fit in, but my doubts and uncertainties vanished as soon as I crossed the threshold of their offices. The environment is highly professional and very familiar and friendly. I am a person who socializes with ease, but in this case I have to say it was just natural [to feel at home].
Are opportunities for growth available within the company?
The company is divided into several offices and there is much opportunity for growth. Each office is linked to every other by a common thread that allows us to know, for example, the evolution of a transaction from start to finish.
In the initial training I did during the first month I spent with Epoch, I received instruction about all processes. The training provided the expertise to make me competent in my work, but I remain confident that the more specific knowledge the company provides is essential for growth and development.
Also, I cannot omit the fact that working for a company like Epoch to offer more solutions and resources for our clients and facilitate increased sales, customer loyalty, risk management and many other services specifically designed to ensure continuity, is very constructive and stimulating.
What are you like in everyday life?
Personally, I have many interests, and I'm curious. I become passionate about things quickly get passionate and tend to stay involved.
What do you like to do in your spare time?
I love animals, and dogs are my passion. I like to visit shops or flea markets in search of vintage goodies. I love art, especially painting and photography, and I like to read sometimes. I'm reading a lot lately. I like to make combinations of old and new, matching colors, both in the home and clothing, and I'm obsessed with shoes, so living in a city like Milan is perfect. I'll spend hours in the kitchen preparing a particular dish, and then serve it accompanied by good wine that complements the spices, flavors and herbs. I like the cinema, and going to rock music concerts.
For more about Epoch, visit Epoch.com. Scolaro may be contacted by email. She looks forward to seeing old friends and making new ones at the Barcelona Summit Feb. 18-21.
Comments are closed.