POP Goes the Dildo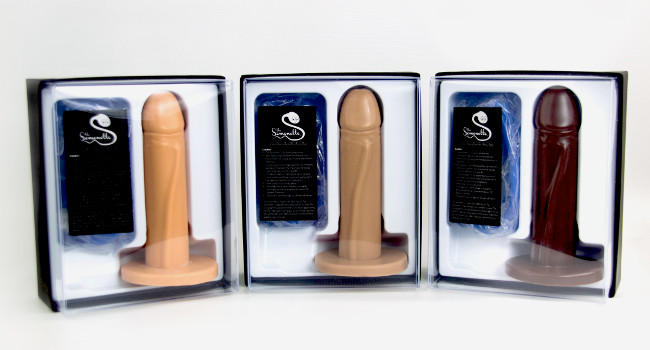 BREMEN, Germany – Berman Innovations, developer and manufacturer of The Semenette, has teamed with German pleasure products manufacturer Fun Factory to introduce a new version of the innovative ejaculating toy, POP. According to Stephanie Berman, by incorporating Fun Factory's pleasure-focused shape with the technology of the original Semenette, the companies now are able to offer a novelty product for consumers from a wider variety of communities.
"I was thrilled Fun Factory was so receptive to working with me on the second iteration of my product," said Semenette Chief Executive Officer Stephanie Berman. "It's been a true pleasure working with their team in Germany and the U.S.
"This new version continues to provide the same function as the original, with an enhanced pleasure experience for so many other groups," she continued. "To be able to partner with Fun Factory was a perfect fit for me, and I am so happy with the final result. We're very pleased to be able to introduce POP by The Semenette to the world."
Originally designed as a tool for making at-home insemination more intimate, The Semenette quickly found a fan base in people excited by its potential for play. POP by The Semenette may now be used by couples in long-distance relationships, trans men, fans of BDSM and role play, people with erectile issues, serodiscordant and mixed-status (HIV positive / negative) couples, strap-on and pegging enthusiasts of all genders, and those interested in using the ejaculating toy for adult-themed parties.
"Sexual health is very important to us," Kristen Tribby, Fun Factory's director of marketing and education. "After all, we've been making medical-grade silicone toys for nearly 20 years. We're delighted to be able to provide customers with a product that's both a tool for conception and an exceptional toy."
POP by The Semenette is available in toffee, cocoa, slate and blackberry colors. The kit includes three replaceable tubes, three tips and one bulb. Refill kits (tubes and luer locks) and bulbs (regular size and large) are sold separately.
POP by The Semenette is available for purchase at POPDildo.com. Retail partners who carry POP are listed in the site's FAQ, which is updated regularly. Retailers and distributors interested in carrying POP by The Semenette may email mailto:Stephanie@TheSemenette.com.
Comments are closed.