Rewarding Publishers, Upping Advertisers' ROI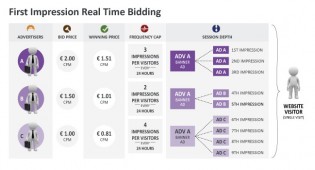 EUROPE – An advertising network's new system for targeting advertising rewards publishers for quality traffic while making it easier for advertisers to get the return on investment they desire, according to the network's brass.
Called First Impression, the system sweeps all sorts of metrics into one easy interface. Advertisers may bid by zone, by site, by method or by geo-target. Advertisers are able to compare their bids to others in order to determine where their budgets will have the most impact. The result, according to ADAMO Ads Chief Executive Officer Judy Shalom, is a much more direct system for keeping media buys visible, even in the most competitive ad spots, for the most lucrative traffic to notice your branded offers.
"With First Impression ad buys from ADAMO, our advertisers are now even more able to target the specific traffic source they want precisely, and since we also offer frequency capping in campaign settings, ADAMO advertisers will receive more unique visitors who are properly targeted to convert with greater efficiency and retention," Shalom said. "It's simple. All an advertiser does is create a campaign by selecting the ad spots, upload their creative and add a few clicks in our streamlined interface to target unique traffic or launch the campaign.
"First Impression works because it combines so much simplicity and power into the best tool for any media buyer to use," she added.
According to Shalom, other networks send raw traffic when advertisers by flat-rate or run-of-network spots. First Impression, however, offers the power to target more unique visitors by narrowing placement focus and allowing more detailed marketing approaches.
"Combined with fully automated frequency-capping technology and award-winning stat tracking, First Impression is the best way to gather new visitors and potential customers from a properly defined demographic to vastly improve your ROI with each new ad buy," she said. "The First Impression system is one that benefits publishers and advertisers across the board by rewarding publishers for the quality of their traffic while making it easier than ever for advertisers to monetize the specific channels that work best for their products and services. It's exactly the kind of win/win we specialize in for all our clients."
Comments are closed.