Study: 99% of Ads on Australian-Targeted Pirate Sites Ranked as 'High-Risk'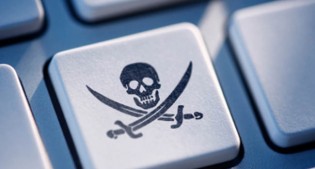 By Peter Berton
Ballarat, Australia – Are 99% of online ads found on Australian-targeted pirated content websites such as The Pirate Bay truly 'high risk'?
That's the conclusion of a rigorous, peer-reviewed study conducted by Ballarat's Federation University. It is believed to be the first Australian research aimed at understanding who is advertising on such sites.
46% of advertisements on these pirate content websites were linked to malware such as fake anti-virus software. This means that "Australians who access rogue websites are at a substantially higher risk of being exposed to malware infection," said the Federation University study. 15% of the pirate site ads were tied into consumer rip-off scams, while another 20% were related to the sex industry.
"Parents need to be aware that advertising linked to the sex industry will be served up to their children, even if they are only intending to download unauthorised torrents for television shows or movies," the study said. This point was proved by a screen capture of a Torrent download link for the Disney movie 'Brave' at www.thepiratebay.sx, which was bracketed by ads for penis growth drugs and one night stand dating services.
Many legitimate Australian firms such as the Commonwealth Bank, Australian Super and NSW Lotteries are advertising on pirated content sites. The association of such companies with illegal pirates and high-risk ads astounded Professor Paul Watters, who helped compile the Federation University study.
"If you are CommBank, for example, and you are advertising on a page where there is also some malware, then that sends completely the wrong messages," Watters told the Australia marketing news website Mumbrella.com.au. "If there is a security or risk department, then as far as I'm aware they aren't even aware of it."
The Australian Association of National Advertisers (AANA) has warned the country's advertisers that they are responsible for steering clear of illegal pirate websites. "The expectation is that big brands act responsibly and do not condone knowingly illegal activity like breach of artistic or commercial copyright by placing advertising around this activity, "said AANA CEO Sunita Gloster. "Advertisers, whether they buy direct or via their media agency, need to take a view on this and act accordingly."
Comments are closed.