Thermometer in Gay Flick Causes BBFC Row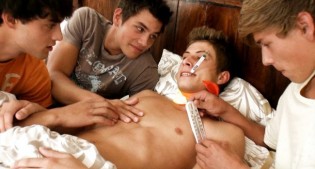 PRAGUE, Czech Republic – BelAmi's latest Kinky Angels release won't be available on DVD in the UK because British film regulators objected to the use of a common, everyday medical device in a common, everyday way.
A thermometer is at the heart of the row between the gay adult studio and the British Board of Film Classification, which must review every movie intended for release in the UK. Because the device appears to be made of glass, the BBFC deemed a rectal-temperature-taking scene about 45 minutes into [i]Rebels[/i] a dangerous example for viewers. The board demanded BelAmi cut the scene or forfeit the R18 rating needed for legal distribution.
Instead, the studio pulled the film from consideration and will distribute DVDS everywhere except the UK. British viewers will be able to watch the movie online only, according to a BelAmi spokesman.
"This whole affair is so utterly ridiculous it borders on the absurd," said Luca Norcen, head of BelAmi's global DVD operations. "The BBFC should begin treating UK viewers as responsible adults rather than children.
"Upon careful evaluation, we felt we could not go ahead with the proposed cut," he added. "It will compromise the integrity of the scene, its unique flavor and its natural buildup. As far as a thermometer constituting penetration with an object which may cause harm, I find that hard to believe given every mom in the world of a certain age has done it a zillion times with her kids."
[i]Rebels[/i], complete with thermometer, will be released on DVD April 1 in the U.S. Millivres Prowler Group will release the European DVD at the end of April in the EU.
British viewers can find the movie online at KinkyAngels.com.
Comments are closed.