UK Government to Adjust Over-blocking Porn Filters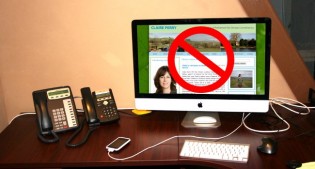 LONDON – In response to a barrage of complaints, the UK government is tweaking the mandatory, root-level filtering of internet content to prevent what evidently is a rash of over-blocking.
Since the law requiring internet service providers to block, by default, all adult content and other "potentially harmful to minors" material went into effect, the government has been besieged by complaints that the filters disallow access to websites belonging to government agencies, elected officials, libraries, educational websites, charities, and other inoffensive entities. Among the mainstream sites blocked because they sometimes mention porn addiction, violent crime and sexual abuse are online presences for the British Library and the National Library of Scotland, Sexual Health Scotland, Doncaster Domestic Abuse Helpline, Reducing the Risk, Edinburgh Women's Rape and Sexual Abuse Centre and BishUK, an award-winning sex-education provider.
"There's a growing realization that filters are not perfect and will lead to some over-blocking," a spokesman for the Internet Service Providers Association told the BBC. "There's a feeling that some sites sit in a grey area and more needs to be done for them."
Enter a special working group within the UK Council for Child Internet Safety, which has created a whitelist of sites that are "safe" even though they contain "trigger" words and phrases. Once the list has been distributed to ISPs, sites appearing on it should be accessible by anyone at any time, according to the group.
The working group, established in December, also will serve as an appeals panel for website owners who believe their properties have been victimized by overly aggressive filters.
Critics of the mandatory filters believe a whitelist won't save what they perceive as a woefully ineffective system based on outdated technology.
"Whilst protecting children from the darker recesses of the internet by forcing ISPs to block sites might make great headlines for the government, the initiative will fail," predicted Andrew Goode, chief operating officer for Project Sunblock. "Using whitelists is never going to work as the ability for sites to be mirrored is just too easy for those people who are committed to making illegal and inappropriate content available online.
"Blocking websites isn't enough to clean up the internet and stop criminals from profiting from pirate websites," he continued. "For example, there are over 160 proxies from which you can access Pirate Bay, and new proxies are being set up all the time to circumnavigate exactly this initiative and stay one step ahead."
In Goode's opinion, cutting off funding for sites judged illegal or inappropriate is the only way to ensure the sites disappear from the web.
"What's needed is to cut off the flow of advertising revenue that fuels copyright-infringing or inappropriate websites," Goode suggested. "The City of London Police has recognized this and has begun blacklisting sites and blocking ads from appearing on illegal websites. This issue must be tackled first; otherwise, the government and internet providers will be stuck chasing shadows."
Notably, Goode did not provide suggestions for how to interrupt the cash flow.
Comments are closed.