Women Can't Live Up To Stupid, Boring Porn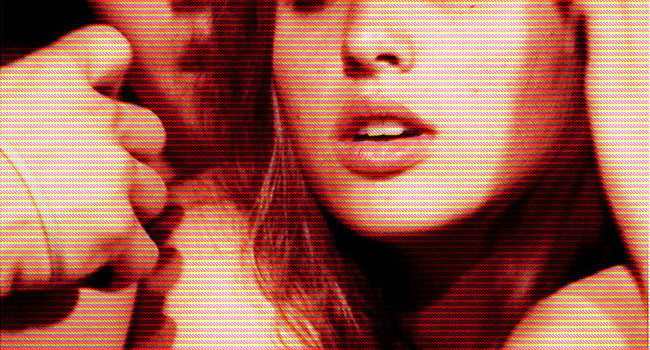 LONDON – According to a new study by some university that probably shares its name with at least four local football clubs, women in the UK are feeling pressured by pornography to deliver "sexual perfectionism" despite finding the same pornography to be dull, offensive and stupid.
"When asked a series of questions about their expectations of sex, the more women expected to give and receive perfection, the less they enjoyed real sex," wrote some British guy named Martin, who is further identified as an "Associate Lecturer" with something called "Self Esteem Team" and who apparently read the study in question but couldn't be bothered to link to his source.
Following a similarly meticulous methodology, I've recently undertaken a study of my own, talking to 387 random strangers about porn. Several of them didn't immediately run away and/or call the police soon after I approached them without warning to conduct my spontaneous interviews.
"It's totally true: Porn creates an expectation of perfection from women," said a 22-year-old I'll call Sandy, as I completely spaced asking her name when we spoke. "I'm not sure why it creates this expectation, since so many porn stars are really kind of nasty-looking skanks. Whatever makes me feel like I have to be perfect, it also makes me feel guilty every time I order a huge latte with extra whole milk and eat a chocolate-filled croissant — which I do every morning, because I'm like a total glutton for punishment, or something."
Another young woman, whom I'll call Mandy because I like to rhyme, said her boyfriend's porn addiction has destroyed their sex life even more than his video gaming addiction, in part because she finds it harder to live up to the images of women in porn than the individuals depicted in first-person-shooter games.
"It's not hard to be sexier than the Master Chief from Halo," Mandy said. "He's always wearing that big, lumpy body armor, so you can't even tell if he has a nice ass, a big fat ass, or maybe even a big, fat mechanical ass. Either way, I'm not threatened by Master Chief in the same way I'm threatened by Jada Stevens or Holly Michaels — which is weird in a way, because I've never seen Jada or Holly blow anybody up with a grenade."
While there's nothing new about women feeling as though they can't compete with the sexualized images of femininity presented in entertainment media, some respondents in my extremely scientific survey of random strangers said it bothers them even more to feel like they don't measure up to women presented in such a boring, mentally-damaging context.
"I don't mind feeling sexually inferior to someone like Angelina Jolie, because she has been in at least a couple of decent movies," said Sandy, or maybe it was Mandy. I don't really care which. "Plus, there's no way I could afford all the plastic surgery and personal trainers it takes to look like her. But with the porn chicks, all they have is some cheap makeup and a gym membership, and I'm actually better looking than most of them, so it really sucks to feel like my boyfriend wants to fuck them more than he wants to fuck me … if he could still fuck, that is, which he can't, because of that whole 'porn-induced erectile dysfunction' thing."
The other women who didn't spray me with mace for asking them about pornography without warning blamed porn for everything from their boyfriend's lack of interest in sex to their boyfriend's excessive interest in sex.
"Me and my man, we used to fuck morning, noon and night, especially when we was in high school," said a woman I'll call Candy, as I'm pretty sure she's a whore. "Mostly, we was fucking other people all those times, but then he started watching porn, and now he don't just want to fuck me, he wants to fuck me all wrong, sticking that little dick of his in any old hole I got, even if I ain't want a dick in there nohow, like it don't even matter where I like dick to be put, you feel me?
"What get into a man who only want to stick a dick in your booty, anyway?" Candy continued. "He been watching that one movie where Edwin James Olmos go to prison and come out all messed up and shit? You know that Olmos man directed that movie, too? What wrong with him? He just like thinking about prison sex or some shit? He seems like he into some sick porno shit to me, too, now that I think on it."
One woman, whom I'll call Andy because in retrospect I'm not certain she's actually a woman, came to the defense of both men and pornography, saying she "refuses to blame porn and men" for all her problems.
"Honey, my relationships with men were all screwed up long before internet porn came along," Andy said. "When I finally got my shit together, it wasn't because my boyfriend stopped watching porn, it was because I realized I was worrying too much about things that don't matter, like other people's perceptions, what the media says and my father's dreams for me, and started focusing on things I care about, like landing a spot on Millionaire Matchmaker, Jimmy Choo shoes and Friday nights at the Stonewall Inn."
Comments are closed.